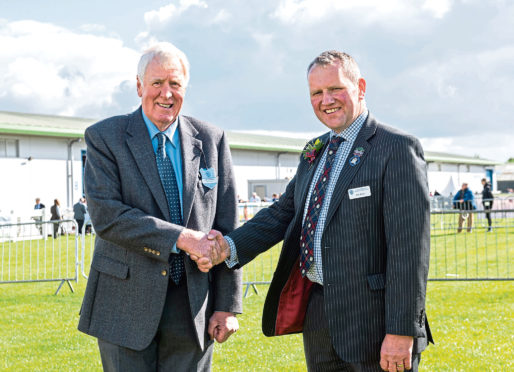 Dumfries pedigree cattle and sheep breeder Jim Goldie has been presented with one of the livestock industry's most prestigious awards.
Mr Goldie, of South Bowerhouses and Townfoot Farms, was presented with the Sir William Young Award from the Royal Highland and Agricultural Society of Scotland (RHASS).
The award, presented by RHASS director and Aberdeenshire farmer Eric Mutch at the Royal Highland Show, recognises outstanding contribution to livestock breeding.
Mr Goldie has been at the forefront of livestock breeding for more than 50 years, having represented Scotland at international stockjudging shows, and judging cattle and sheep at major shows including Smithfield, all four royal shows and the Paris Show.
He is a renowned Charolais and Limousin breeder, and in 1985 set the world record for a heifer selling Goldies Victoria to Texas for £38,000.
He is also a well-respected breeder of Bleu Du Maine, Rouge, Texel and Lleyn sheep.
In 2001 the pedigree breeding was wiped out by foot-and-mouth disease
However, Mr Goldie, along with his sons Hamish and Bruce, has rebuilt the Charolais and Limousin herd as well as Texel and Lleyn flocks.
"Livestock is Jim's passion, which is reflected in the world-class animals he produces," said RHASS chairman Jimmy Warnock.
"His achievements are remarkable, and to be consistently leading the way in his industry is credit to a man who is truly committed to excelling in livestock management," he said.
"He has shown true resilience, and his understanding and insight into livestock breeding is evident in the success he has enjoyed. Jim is a true asset and very worthy of this year's Sir William Young Award."
Mr Goldie said: "I am delighted to have received this prestigious award, and honoured to have been selected from our industry which has so many outstanding and dedicated livestock breeders."