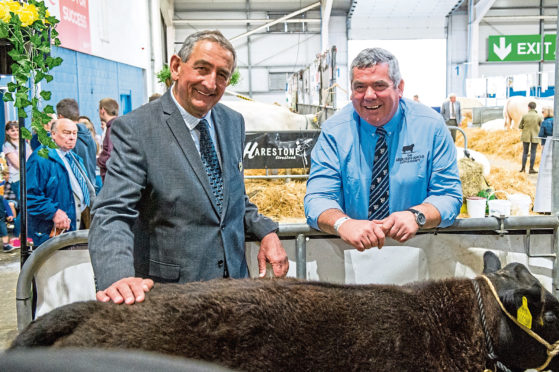 Aberdeen-Angus Cattle Society president Paul Jeenes unveiled his vision to make the breed the most popular in the UK by 2020 at yesterday's Royal Highland Show.
Mr Jeenes, who farms in Somerset, also revealed details of the society's DNA sire verification scheme which has cost in excess of £100,000.
He said the breed was currently the second most popular in the UK, after Limousin, but society projections suggest it will overtake its continental cousin for the number one spot next year.
"We are currently selling more and more into the marketplace, but 25 years ago we were verging on rare breeds sta-tus," said Mr Jeenes.
"In 2020 we will be a little bit more than 20% [of the national herd]."
He said the growth in popularity of the breed had been largely driven by the premium for Angus-sired cattle, which averages around 30p per kg, but producers were also enjoying the efficiencies offered by the breed.
Describing Aberdeen-Angus as a brand, as well as a breed, Mr Jeenes said brand integrity was vital.
"The brand is everything," he added.
"It's the most widely recognised beef brand in the world, let alone in the UK."
To protect the brand and ensure beef labelled as Aberdeen-Angus has definitely been sired by an Angus bull, the so-ciety has taken steps to provide DNA traceability for processors, retailers and consumers.
"Over the last 10 years we have tried to put in place a means of brand security," said Mr Jeenes.
"We have had a system whereby we can tell you, from taking a tissue sample [from the meat], whether it is 50%, 75% or 100% Aberdeen-Angus. We need to provide the tools for the industry to protect the brand."
DNA testing was previously only carried out on sires sold at society sales, however every Aberdeen-Angus sire in the herdbook must now be DNA tested – a move which could, in theory, allow a consumer to identify the Aberdeen-Angus sire of the piece of meat they are eating.
Society chief executive, Barrie Turner, said the society was footing the bill for DNA sampling and recording every sire and this was now included in the registration fee for all bulls.
He said: "From 2019 onwards you cannot register a bull without it being DNA sire verified."
He said DNA verification of females was still voluntary, but breeders were more aware of the need to ensure complete transparency with an animal's breeding following recent revelations of irregularities in other breed societies.