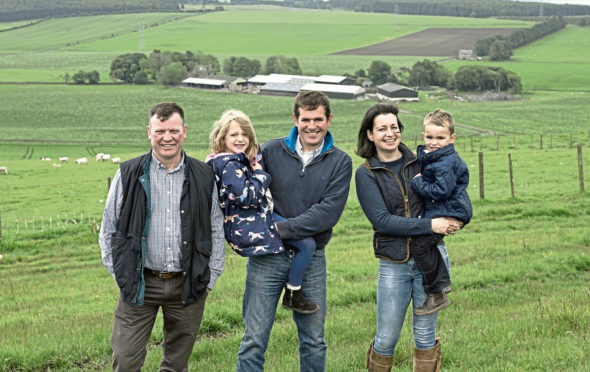 A leading beef and sheep farm near Dundee has been unveiled as the host of next year's NSA Scotsheep event.
The biennial event, organised by the Scottish branch of the National Sheep Association, will take place at Robert and Hazel McNee's Over Finlarg Farm, near Tealing, on June 3 2020.
"The farm is in a great location and provides a varied and successful business that will be worth a visit to see," said NSA Scotland chairman, Jennifer Craig.
The McNees, who have two young children – Kate, six, and Alan, four – have built up the business since moving to the 740-acre farm in 2011.
The couple lamb 1,100 sheep every year, including a flock of 600 hill-type North Country Cheviot ewes, of which 200 are bred pure and the remainder crossed with Bluefaced Leicesters to produce Cheviot Mules.
Around 200 Blackface ewes are crossed with home-bred crossing-type Bluefaced Leicesters to produce Scotch Mules, which are then tupped to the Texel and sold as hoggs with lambs at foot. Cheviot Mules are also sold through the sale ring as gimmers the following year and the McNees also run 100 pure Texels and pedigree Bluefaced Leicesters to produce breeding tups.
The couple also run 180 pedigree cows including 100 Luings, 60 Limousins, 12 Simmentals and eight Charolais. Recent herd successes including selling Luing bull Finlarg Warrior for 18,000gn at Castle Douglas in February.
Organisation of next year's event will be overseen by a local committee chaired by neighbouring farmer Willy Millar, who runs a beef and sheep enterprise at Huntingfaulds, Tealing.