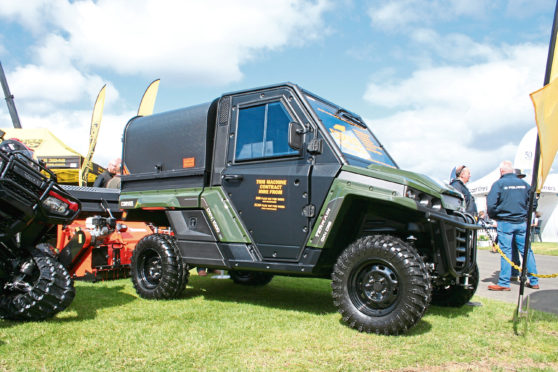 A new make of side-by-side all-terrain vehicle unveiled by ATV Services Scotland at the Royal Highland Show aims to win over customers with quality build and a fuel-efficient diesel engine.
Spanish manufacturer Corvus has not rebranded a Far East product for its Terrain off-roader, as some ventures have done, but engineered it from the ground up, says Phil Everett of UK and Ireland distributor Boss ORV.
A relationship with Yanmar made the Japanese manufacturer's 24hp 993cc diesel a logical choice for the Terrain DX4 – in fact, the vehicle is sold into North America as a Yanmar product – and a notable feature is the air intake positioned at the top of the right-hand cab pillar, well away from mud, water and dust.
Inside, there is a spacious and completely clear footwell providing plenty of space for large boots in front of the two individual seats, and there is a good lot of storage space too, with three compartments beneath the seat and another two ahead of the rear wheels.
The top-spec of three model variations was shown at the Highland with the manufacturer's own fully-glazed cab, but semi- and no-cab variants are also available, together with a choice of orange or dark green paintwork.
Meanwhile, tractor and ATV dealer Terra Firma had Kioti's latest side-by-side ATV on show, this being the K9 2400 replacement for the long-serving Mechron.
This more modern machine is powered by a 1,007cc Daedong diesel engine with a tad more power at 24hp, and said to be quieter and more fuel efficient than its predecessor.
Reduced vibration is another plus for the powertrain, while braking performance is also said to have been improved with disc brakes front and rear.
Users also get a new dashboard and instrument panel, tilt adjustment for the steering wheel, which operates with hydraulic power assistance, and added comfort from independent A-arm suspension front and rear.