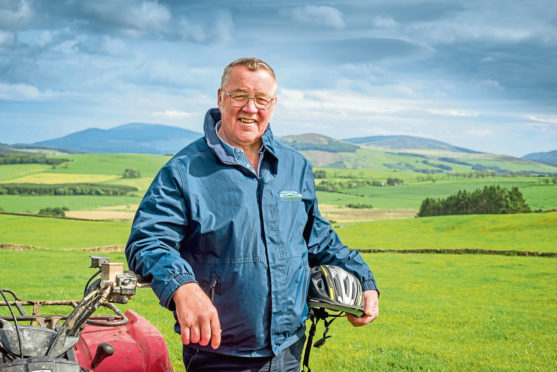 Scotland's farming union has called on the Scottish Government to fill a funding shortfall for the Less Favoured Areas Support Scheme (LFASS) as a matter of urgency.
European Union rules require LFASS payments for 2019, due next spring, to reduce by 20% resulting in a £13 million cut to the scheme's £65m budget. Further cuts are required for the 2020 scheme year.
NFU Scotland (NFUS) has written to Rural Economy Secretary, Fergus Ewing, asking that he honours his promise to reinstate LFASS funding levels to 100%.
"Recognising that we can't simply top up LFASS, we are seeking immediate and effective action by Scottish Government to address the LFASS 2019 shortfall of some 20%," said NFUS president Andrew McCornick.
He said the union's Brexit confidence survey revealed eight out of 10 hill farmers and crofters would reduce livestock numbers over the next five years if they lost LFASS support. "We are of the clear view that the LFASS 2019 shortfall can and must be made good to prevent the risk of land abandonment and the loss of all the many rural development benefits that hinge on active farming and crofting in disadvantaged areas," added Mr McCornick.
"In addition to the 80% LFASS 2019 payments being made under existing regulations, we urge Scottish Government to separately commit to making de minimis payments to LFASS applicants under the state aid provisions or identify another deliverable solution.
"I repeat the urgency of the situation. It is imperative the Scottish Government acts now."
He said addressing the funding shortfall would remove a significant element of uncertainty affecting the sector.
A Scottish Government spokeswoman said: "It is our priority to provide people in rural businesses with as much financial stability as possible. The rural economy secretary is aware of the importance of LFASS funding in Scotland, which is why we are the only part of the UK to offer this support." She added: "We urge the UK Government to honour promises made during the 2016 EU referendum and replace lost EU funding, providing a fair share to Scotland following the intra-UK funding allocation and ensuring the £160 million in convergence funding is returned to the Scottish farmers and crofters for whom the funding was intended."