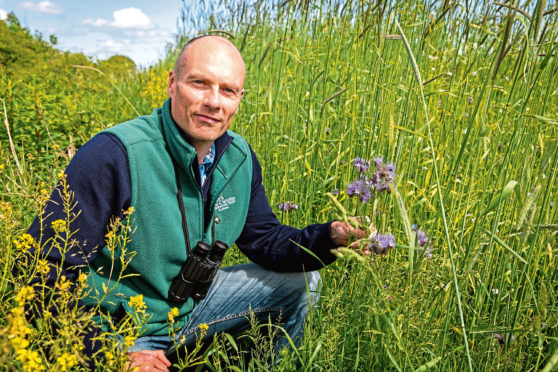 An innovative game cover crops trial on a Fife farm could provide the blueprint for future agri-environment schemes.
Balgonie Estate, near Glenrothes, is one of two Scottish farms involved in a Europe-wide project, which strives to show how new management solutions can improve wildlife and biodiversity on farms by up to 30%.
The other Scottish enterprise involved in the project is Whitburgh Farms, just south of Edinburgh.
The project is being managed by the Game & Wildlife Conservation Trust's (GWCT) head of lowland research in Scotland, Dave Parish.
He said semi-permanent cover crop field margins have been established at Balgonie – an entirely arable unit – in a bid to demonstrate how wildlife can be boosted with minimal effort from farmers and land managers.
Each block, which is 20-24 metres wide, has been sown with a specially developed mix from Kings Crops at a rate of 20kg per hectare.
Species in the mix include: spring triticale; perennial rye; coleor kale; sweet fennel; gold of pleasure; brown mustard; fodder radish; sweet clover; phacelia; linseed and chicory.
"The reason we picked this mixture was multi-functional benefits – less work and less money," said Kings Crops technical advisor in Scotland, Alan Johnson.
"The beauty about the mixture is that it can be spring or autumn sown. It has a varied source of feed value in it and you can use it as an Ecological Focus Area (EFA) with fallow but you won't be able to top it in the fallow period."
He said the Balgonie cover crop margins were established in May last year in a field which was previously used to grow winter wheat.
Once the wheat was sprayed off, the cover crops mixture was drilled, rolled, and then Nitrogen was applied at a rate of 125kg per hectare.
Explaining the environmental benefits of the field margins, Mr Parish said: "The whole point of this is to provide resources, predominantly for grey partridge.
"These habitats are designed to provide these resources year round for the birds in a way that is the least effort for the farmers."
He said the blocks were wide to enable a farmer to cut one half of them one year, and the next half the year after.
Mr Parish added: "The main idea behind the cutting is that it creates two different blocks of habitat. The cut area is supposed to be a bit more open and that's really good for foraging habitat, and the thicker, dense stuff is good for nesting. All the farmer has to do is keep cutting."
He said while there was no ideal time to top the field margin, a farmer should avoid cutting the crop when birds might be nesting on eggs, or too early in the winter.
Mr Parish added: "What we have done at Balgonie this year is cut at the first opportunity in March."
Looking to the future of the project, Mr Parish said he hoped the results from the trials would help shape future agricultural policy.
He said: "We are trying to show farmers and policymakers what can be done for an agri-environment scheme."
At present the only similar option available to farmers through the Agri-Environment Climate Scheme (AECS) was to establish an annual patch of cover crops.
Mr Parish said: "We want to try and show what can be done with the semi-permanent options. The idea of not having to sow it every time is attractive (to farmers)."
He said the farm's manager – John Drysdale – first got GWCT involved at Balgonie in 2014 by asking for advice on what to grow to boost wildlife.
Mr Parish added: "It had to be nice and simple, big impact and minimal effort. Some of this is new, like cutting half of it, but some of the things we are doing have already been shown before to work. If you grow the right stuff and leave it for long enough, it's just going to develop and get better."
Mr Parish said it was still early days but initial findings suggested an increase in the number of nesting grey partridge at Balgonie.