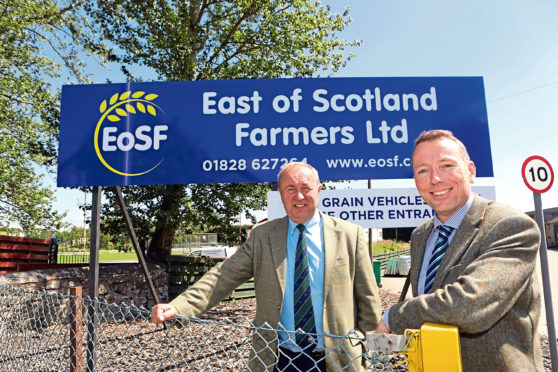 One of Scotland's most successful farm co-operatives celebrated 60 years of trading this week by inviting members to view their latest infrastructure investments ahead of the harvest rush.
With crops rapidly ripening, the producers who make up East of Scotland Farmers (ESF) took time out to see how £600,000 spent on a weighbridge, a laboratory, a new approach road for lorries delivering grain and "a lot of concrete" will help the business cope with the extra volume of barley expected at harvest.
They also celebrated the co-op's achievements over its 60-year history with a lunchtime barbeque at the Coupar Angus base.
The catalyst for the successful arable business, which largely operates across a 50-mile radius of the town, came in 1959 when an old munitions store came up for sale. Since then the scale and scope of ESF has grown steadily, although general manager Robin Barron says there has never been an ambition by members to develop nationwide.
"Rather we have stayed true to our farming roots in the local community and the priority is providing a service to members," he said.
There are 300 shareholders in ESF and 180 of them actively supply grain. The core business is the drying, storing and marketing of grain and oilseeds, predominantly malting barley, with around 50,000 tonnes of the 75,000 tonne grain total earmarked for the maltsters.
On-site storage at Coupar Angus amounts to 50,000 tonnes after £3.5 million was spent in 2013 on an extra 15,000 tonnes of storage and the installation of one of the biggest dryers in Europe, capable of drying 50 tonnes per hour.
Members delegate all the marketing to the co-op and there's a long-term arrangement with maltsters, with key links to Diageo, Simpsons and Boortmalt at Montrose.
"Malting barley is what we do best," said Robin.
"It's where we can provide a service. We're able to take it at harvest quickly from farms to minimise any risk of quality issues, then market it to best advantage. We sell at different times through the year and average the returns for all members."
Looking ahead, ESF is expecting to expand in line with the growing acreage devoted to spring barley.
Robin said: "One of the reasons for the new road and lab is to future proof the complex and we have other plans in the pipeline."
The business employs 22 staff, some of whom are part-time, including a shop team of six and two agronomists, with another being trained. At harvest everything is scaled up with 12 extra people employed to ensure grain drying can continue 24/7.
The prospects for this harvest's barley prices were high on the agenda during the co-op's open day, and while markets are notoriously fickle, there is some cause for optimism as both the distilling and malting sectors are expanding and Scottish grain is their first choice. The omens for ESF look good.