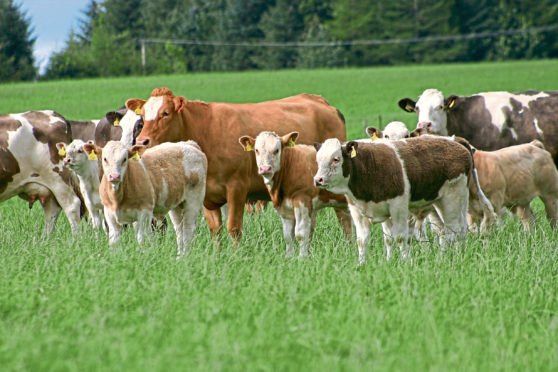 Farming leaders have called on all sectors of the beef industry to attend crisis talks on Monday.
As farmers' frustration builds over below cost-of-production prices for cattle, the summit in Inverurie is expected to see representatives from the British Retail Consortium, meat wholesalers, auctioneers, the farmers' union and other agencies with involvement in the beef business put their heads together to find measures that will help the sector find long-term solutions.
The meeting will take place behind closed doors and will be attended by two onlookers from the Scottish Government.
NFU Scotland president, Andrew McCornick, said the meeting was intended to pull the industry together and find out why prices in supermarkets remain high when farmers selling finished cattle to abattoirs continue to see returns going in the wrong direction.
He said: "The latest price figures from AHDB need explanation. Either costs have gone crazy or there is something very wrong going on.
"We can't buck the market but we need to find out precisely what the market wants and if there is a margin or not for farmers.
"If we're going to hit Scotland Food and Drink's £30 billion target of doubling turnover by 2030 we can't afford to lose one of our iconic brands."
Mr McCornick said he had spoken to farmers in the last week who are despairing over the future and who have put their suckler cow herds on the market.
"These cows won't be replaced," he added.