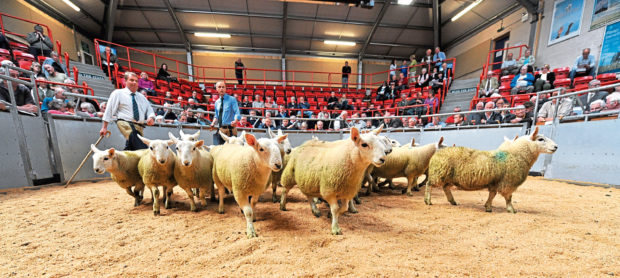 Figures have revealed farmers and crofters are receiving the lowest prices in four years for new season lambs, according to Quality Meat Scotland (QMS).
Data from the levy body also reveals UK prices are 5-6% lower than a year ago, while prices in Ireland, France and Spain are down 9%, 7% and 4%, respectively.
QMS director of economics services, Stuart Ashworth, said more benign weather and good grass growth had influenced growth rates resulting in a 12% increase in meat production through May and June.
"Auction market throughputs during July suggests an increase in production continuing," he added.
He said a weak sterling had contributed to stronger exports in the first five months of the year, and a reduction in the amount of New Zealand lamb exported to Europe had benefited the sector.
New Zealand lamb deliveries to the UK were down 22% in the first half of the year, and down 40% in June.
"New Zealand is sending more product to China and the USA at the expense of the EU," said Mr Ashworth.
"This has created an opportunity for UK sheepmeat exporters who have seen significant increases in deliveries to Germany, the Netherlands and Italy, as well as growth to France."
Despite increased exports and reduced imports, Mr Ashworth said the increase in domestic production in May and June had resulted in slightly more sheepmeat on the home market than this time last year.
"Without building stocks, consumption has to increase," added Mr Ashworth.
He said although data from Kantar World Panel showed an increase in consumption, retail prices fell by 2-3% in June in a bid to stimulate demand.
"In short, to clear the market, retail prices have had to fall, which in turn pressures the farmgate price," said Mr Ashworth.
Looking ahead, he said slaughter numbers in August may be more modest, as a result of the increase in kill through May and June, thus offering some short-term stability to the market.
"However, this is to ignore the lack of clarity that still exists over Brexit which adds to the uncertainty in the marketplace, short-term adjustment to lamb marketings and the risk that prices would have to fall significantly for UK lamb to remain competitive in the European market," added Mr Ashworth.