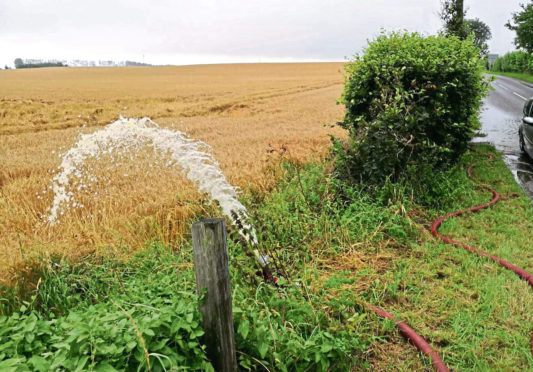 Farmers and crofters with water-logged fields as a result of water being pumped away from flooded houses or roads may be entitled to compensation, claim lawyers.
Shepherd and Wedderburn partner, Hamish Lean, said although the law surrounding rights and obligations in relation to water was complex, instances of water being pumped onto fields could warrant compensation claims.
His comments come following reports of floodwater being pumped on to fields during the recent spell of heavy rainfall.
"The normal rule of law is that where surface water, including floodwater, drains naturally on to lower land owned by a different proprietor, the lower proprietor is obliged to receive it," said Mr Lean.
"However, the upper proprietor is not entitled to artificially increase the discharge of standing water on to the lower ground. This would include, for example, using pumps to get rid of floodwater into neighbouring fields.
"Where this happens without the landowner's permission causing damage and loss, this may well give rise to a claim in damages against the person carrying out the pumping operations."
Brodies partner Paul Marshall, who works in the firm's government, regulation and competition team, said local authorities have powers to manage the risk of flooding and to implement measures to prevent it, which in some cases results in water from a high-risk area going onto someone else's land.
He said: "If water is purposefully pumped onto your land by a local authority you may have a remedy.
"Alongside flood management powers there is also a requirement for the local authority to compensate any person who sustains damage as a result – damage being identified as either the value of the land has decreased, or your use of the land has been disturbed."
A number of conditions must be met in order for a compensation claim to be successful, added Mr Marshall.
These include giving notice of the claim to the local authority no later than two years after the loss becomes apparent or the first occurence of the disturbance.
Mr Marshall said: "This must also be within 10 years of the initial activity. Any dispute about entitlement to compensation would be considered by the Lands Tribunal."
Mr Lean added: "This can be a difficult area of law and people who are experiencing problems should not hesitate to seek legal advice at the earliest opportunity."