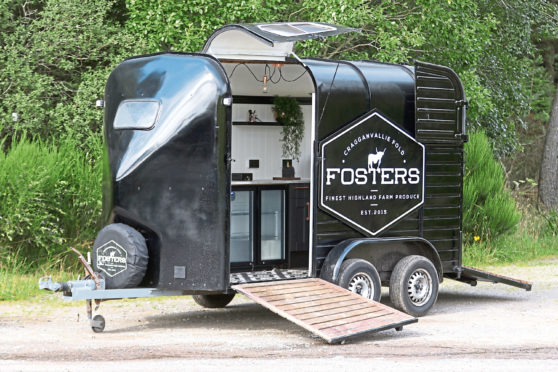 A farming couple from near Inverness have transformed an old horse box into a mobile farm shop to sell home-reared beef from their Highland cattle fold.
James Foster and his wife Steph farm 200 acres at Cragganvallie, Kiltarlity, which is home to 23 pedigree Highland cattle, a small commercial suckler herd and 50 breeding ewes.
Highland cattle have been on the farm since 2005 and after "falling in love" with the breed, the couple established the Cragganvallie fold in 2015 with females purchased from the west coast including heifers from the Ardbhan fold on North Uist.
Last summer James and Steph were keen to promote Scottish beef and educate the public on where food comes from. They decided to start up their Fosters business selling produce from their previous Highland cross Beef Shorthorn herd.
Despite customers returning to the farm to buy beef, Steph and James were aware of their rural location and realised that people were reluctant to travel. This led them to purchase a working horse box that they have spent months converting into a state-of-the-art Beef Box.
"We've built up a good customer base from selling at the farm and have become passionate about free range, top-quality Scottish beef," said Steph, who is a qualified veterinary nurse and make-up artist and has two young sons with James, Seumas, 6, and Lochie, 2.
"We have learned, however, that although the public want to buy local produce, they don't want to travel far to purchase it so the only solution was to bring the produce to them. I got the idea of the horse box from Pinterest but I did have to warm James to the idea."
Renovation work on the horse box began in February, with the inside completely ripped out and the outside resprayed with black paint.
"The inside was then sanded down and fitted with kitchen units, electricity, a copper sink (which is originally a French jam pan) and fridges and freezers.
The Beef Box now concentrates entirely on 100% pure Highland beef and free-to-roam eggs from a variety of hen breeds on the farm including Bantam, Light Sussex and rescue hens from the British Hen Welfare Trust.
Highland cows are outwintered all-year-round and calves are weaned at eight to 12 months of age.
The animals for finishing are outside throughout the summer months but housed in the winter and finished on barley at 40 months of age at 170kg deadweight when slaughtered at Millers of Speyside in Grantown.
"It's important not to rush and ruin a product so we don't just kill to meet the demand," said Steph.
"We watch our animals grow and they are only slaughtered when they are ready. They're matured for 21 days and the animals that kill out well are sometimes matured for 28 days."
James, who plans to leave Steph to the running of the Beef Box and will concentrate on the farm more, said: "You just can't beat the eating quality of Highland beef – it has a very distinctive flavour, which the customers love."
The couple hope to breed their own female replacements in the Highland fold and last summer privately purchased a new stock bull Duke 11 of Leys from the fold at Leys Castle Estate, Inverness.
His first crop of calves is on the ground now and James and Steph have plans to exhibit cattle at local shows next year.
Having completed the renovations at the end of July, the first outing with the Beef Box was the Black Isle Show, which saw two successful days of selling to new and old customers.
Steph said: "Local farmers' markets will be our main target for selling beef and we hope to attend more agricultural shows next year as well as the Moy Game Fair.
"We're already booked into the Highland Food and Drink Festival at Eden Court in November and the Fort Augustus Abbey Market, North Kessock and Dingwall farmers' markets."
The Beef Box offers all cuts of slowly matured Highland beef including discounted beef packs at £25 and summer barbecue packs at £30.
Powers of social media have also been working in the Fosters' favour to promote their new venture with all updates posted to the Cragganvallie Fold Facebook page and The Fosters/ Cragganvallie_fold Instagram account.
In regards to future plans, Steph said she wants to do more to educate the public about farming and how food reaches their plate.
She said: "Once we have had a few outings with the Beef Box, I'm hoping to install a coffee machine so that rather than customers just coming to pick up their produce and leaving again, they can have a coffee and a chat about what they're buying and how it has got there."
If the Highland beef retailing venture takes off, James and Steph say they may sell the commercial cows and try to supply local restaurants and businesses.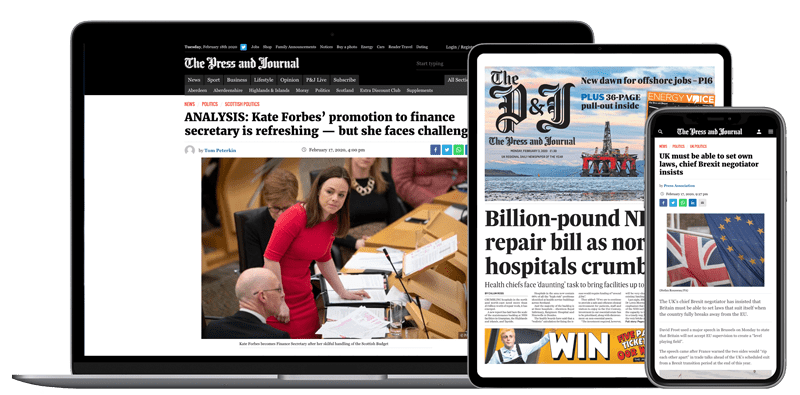 Help support quality local journalism … become a digital subscriber to The Press and Journal
For as little as £5.99 a month you can access all of our content, including Premium articles.
Subscribe