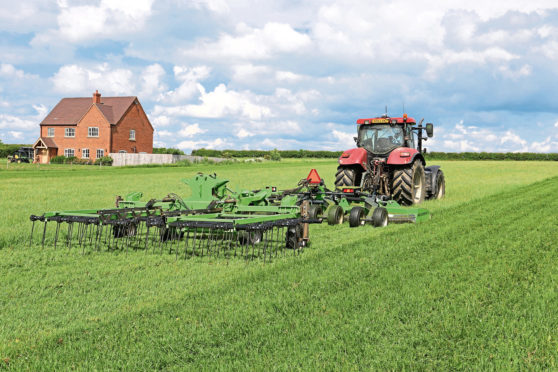 High output grooming of grassland and stubbles is promised by an unusual combination of mower and harrow.
Developed and manufactured by Razorback, a new business formed by the farmer and engineer behind Mzuri direct drills, the five-metre cutting width RT500 rotary mower is formed in three sections to faithfully match ground contours.
It has a double skin deck and full-length replaceable skid shoes to maintain the required cutting height along with the four sets of rear wheels, which are mounted in pairs on arms each regulated by a hydraulic cylinder.
Three swinging 'updraft' blades are fitted to each rotor – one rotor per section – to get a clean cut, with heavy duty close link chain hanging from the rear of the deck to contain stones and other potential hazardous items without gathering the mown foliage. Although this machine can be operated on its own on a tractor with up to 250hp at the pto, which is the main gearbox rating, Razorback has also developed a trailed flexible tine harrow as a partner implement. There are five rows of 24in long flexible tines of the type typically used to spruce up grazed or conservation pastures, remove thatch, open up the surface to get oxygen to the roots and spread cow pats or applied manure.
But Razorback's Martin Lole also sees this combination being useful in arable crops, especially for growers not intending to bale their straw.
Setting a high cutting height minimises the amount of straw passing through the combine and thereby boosts its performance.
Mowing the resulting tall stubble ensures it is well chopped and evenly distributed.
Meanwhile towing the harrow behind creates a tilth and provides good cultural control of slugs without overly disturbing the soil in a way that would encourage weed germination. This approach is said to be especially effective in oilseed rape stubble, where cutting and smashing residue significantly reduces slug habitat and reduces reliance on chemical treatments to ease the burden on following crops.
Similarly, the combination is said to have the potential to save time and diesel when managing stale seedbeds by combining two operations into one – cutting and stimulating straw and trash to accelerate its decomposition on the surface while generating an environment that encourages a weed flush for effective control prior to drilling.
The harrow's tines are mounted on an active parallel linkage to ensure they remain in firm contact with the surface regardless of the drawbar angle as the combination passes over undulating ground or when the implement is used on its own behind a tractor in unmown stubbles.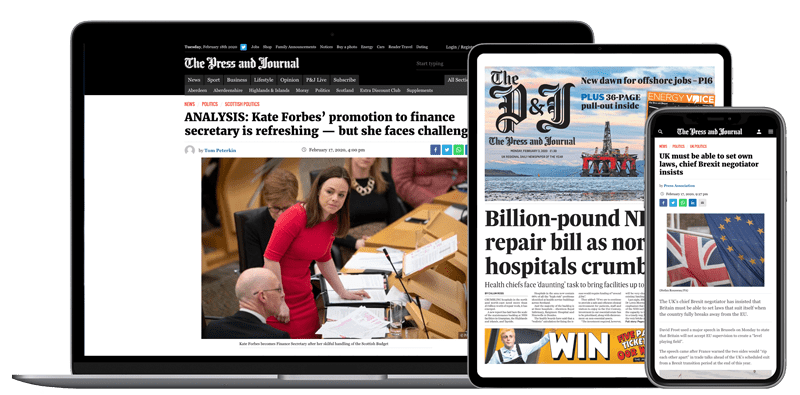 Help support quality local journalism … become a digital subscriber to The Press and Journal
For as little as £5.99 a month you can access all of our content, including Premium articles.
Subscribe