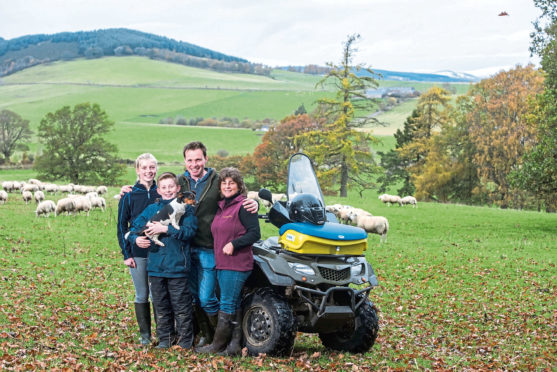 The deadline is fast approaching for two prestigious industry awards.
Quality Meat Scotland (QMS) has issued a final plea for entries and nominations for the AgriScot Scotch Beef Farm of the Year and the AgriScot Scottish Sheep Farm of the Year awards.
Both awards, sponsored by Thorntons Solicitors and supported by QMS, set out to find and reward Scottish farms which exemplify the best in beef cattle and sheep production.
Last year the beef award was won by father and son duo, Niall and Angus Jeffrey, who run two spring-calving units over three farms in East Lothian. The sheep award was won by the McGowans, who run 1,100 Lleyn ewes on the 1,200-acre Incheoch Farm near Alyth in Perthshire.
Both winners feature in two new videos aimed at getting farmers to nominate themselves, or others, for the awards.
Niall Jeffrey urged others to enter and said: "To be nominated for the AgriScot Scotch Beef Farm of the Year was such a great honour but to go on and win made me so proud of our whole team and what we've achieved. It allows you to step back from the day-to-day running of your farm and think differently about your business."
Both winners will each receive a £500 cheque plus a £250 voucher to celebrate their success at a restaurant in the Scotch Beef Club, for those committed to serving top-quality Scotch Beef.
QMS said entries are welcome from all different livestock enterprises across Scotland which demonstrate excellent stock management skills coupled with enthusiasm and focus in providing efficient, profitable production of Scotch Beef and Lamb.
Farmers can either apply themselves, or nominate, in confidence, other beef or sheep producers.
Others in the sector, including vets, processors, hauliers and auctioneers, are also invited to nominate farms for the award. Nominations and entries must be sent to lstrang@qmscotland.co.uk by the deadline of October 14.
The winners will be revealed at AgriScot at Ingliston, near Edinburgh, on November 20.