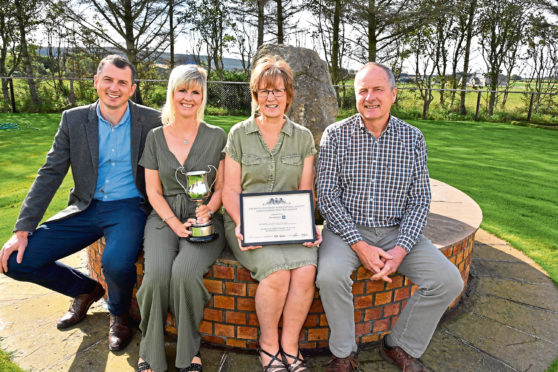 A farming family from Portsoy has been crowned winner of the Royal Northern Agricultural Society's good farming practice award.
Father and son Charles and Philip Gray, together with their respective wives Helen and Michelle, of Gray Farms Limited, were presented with the Aberdeenshire Council-sponsored accolade at a ceremony held at their Greenacres Farm.
The Grays farm 1,500 acres of arable land comprising malting barley, wheat and seed potatoes of which 50% is exported to Europe and the remainder to Thailand, Indonesia, Egypt and Morocco.
They also run a waste recycling business and produce compost from by-products which are sourced from local companies and the council to improve soil and reduce their artificial fertiliser bill.
The family now has plans to build a state-of-the-art refrigerated store to reduce energy requirements when storing potatoes.
Runners-up in the competition were the Campbell family – brothers Iain and Neil, Iain's wife Lesley and their son Scott and his wife Elaine – of Kirkton of Kinellar, Blackburn.
They farm 1,025 acres of arable ground and run a groundworks business founded in the late 1990s.
Judge Iain Green of Corskie, Garmouth, who won the award in 2012, said both finalists were very strong contenders.
"Both Charles and Philip are enthusiastic and committed to everything that they do, and the fact that they make use of by-products from other local companies to help keep their soil in the best condition swung the balance in their favour," he said.
Mr Green also praised the Campbells' attention to detail in crop husbandry and how they have diversified unused buildings in to storage, as well as hosting SRUC variety trials in grass and cereals and exchanging straw for muck with neighbouring farms.