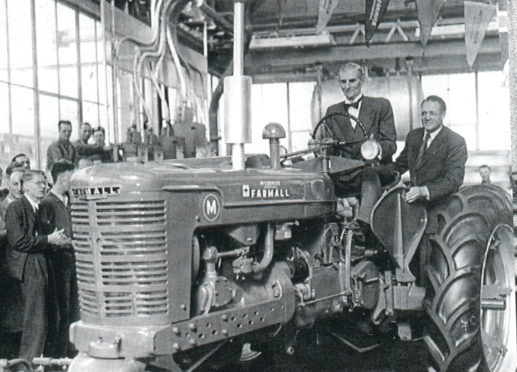 The first of thousands of British-built International tractors was driven out of the Doncaster factory 70 years ago this month by the then minister of agriculture, Tom Williams.
In the 20 years that followed the Second World War, Britain's tractor industry led the world in innovation and enterprise.
UK concerns such as Marshall, David Brown, Ferguson and Nuffield satisfied the home market and exported heavily to help bring currency into a cash-strapped economy.
The Americans were also producing tractors on this side of the Atlantic.
Ford was building cars, commercials and tractors at its Dagenham plant in Essex, and Massey Harris, Allis Chalmers and International Harvester (IH) opened UK factories to get their slice of sales in war-torn Britain and Europe.
Arthur Neale, the boss of IH GB, purchased a factory in the Yorkshire railway town of Doncaster in 1938 with an eye on manufacturing products in Britain. But the start of the war meant the factory was taken over for war work.
Later the factory went back to IH which began to assemble an array of implements including green crop loaders and trailing ploughs. Grain drills, balers and muck spreaders came later.
IH products had long been popular here, so when the idea of British-built tractors arose, whole assemblies were imported from the States for final assembly in Doncaster.
This helped get around the various import restrictions and gave the workforce something to work on and the sales team a British tractor.
For the first three years these tractors only differed from the American-built versions of the Farmall M by having the steering arrangement placed behind the front axle, a swinging drawbar and a hydraulic lift as an option.
The second tractor off the production line was driven by Arthur Neale on September 13 1949, and by 1952 IH was able to assemble the tractor using parts manufactured in the factory or sourced from British suppliers.
By now British farmers were turning to diesel, and IH was able to offer its version at the same time as many others in the market.
The British IH Gold tractor was produced to mark the 1,000th tractor to leave Doncaster in July 1953. Often called the Coronation Gold tractor to mark the Queen's coronation a month earlier, it is unclear just how many IH turned out in this unpopular colour.
The engine was also uprated in 1953, giving the new four-cylinder diesel engine tremendous lugging power.
It became the basis of subsequent models which replaced the BM, such as the BWD 6, the 450, the 614 and the 634.
All these models had a dedicated following of customers who revered the tractors' ability to hang in on heavy cultivation work such as ploughing.
The factory at Doncaster has sadly gone, but the tractors live on throughout the land.