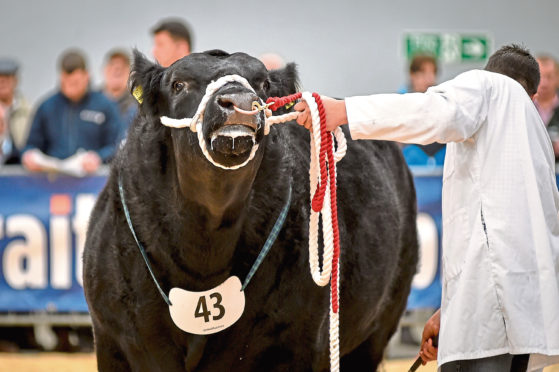 A record entry of Aberdeen-Angus bulls will go under the hammer at the Stirling Bull Sales later this month.
The event, which takes place at United Auctions' Stirling Agricultural Centre on October 20-22, has attracted an entry of 109 Aberdeen-Angus bulls, 129 females and 83 calves, including lots from two dispersal sales.
These are Ben Marsden's Liley herd from Penistone, South Yorkshire, and the complete sale of the autumn-calving portion of the Murray family's Forfar-based Wolflaw herd.
The Liley dispersal includes the sale of multiple show champion, Liley Kinannie, and senior stock bull Shadwell Earl.
In total, 698 pedigree bulls and females across nine breeds will be offered for sale.
The sale will feature the complete dispersal of the Russell family's Denny-based Lesliepark Charolais herd, including the overall junior champion at the Charolais National Show, Lesliepark Nora.
Bull entries include: 33 Beef Shorthorn; two Maine Anjou; one Lincoln Red; nine Salers; two British Blonde; 92 Limousin; 121 Charolais; and 149 Simmental.
"It's great to see the record entry of 109 Angus bulls this year and the increase of Beef Shorthorn, Limousin and Simmental bulls forward," said United Auctions' group sales director, John Roberts.
"This year's busy programme of high-quality bulls and females has something for every buyer."
Aberdeen-Angus will be judged by David Johnstone from Ballindalloch Home Farm, Ballindalloch, while Beef Shorthorns will be judged by Northern Irish breeder James Porter and his partner Amy Richardson.
Charolais will be judged by Allen Drysdale, Middle Drimmie, Blairgowrie, Limousins by Andrew Gammie, Drumforber, Laurencekirk, and Simmentals by Adrian Ivory, Moolies, Meigle.
Shows of Aberdeen-Angus, Beef Shorthorn and Limousin take place on the Sunday, followed by sales on the Monday.
Charolais and Simmental shows take place on the Monday, followed by sales on the Tuesday.