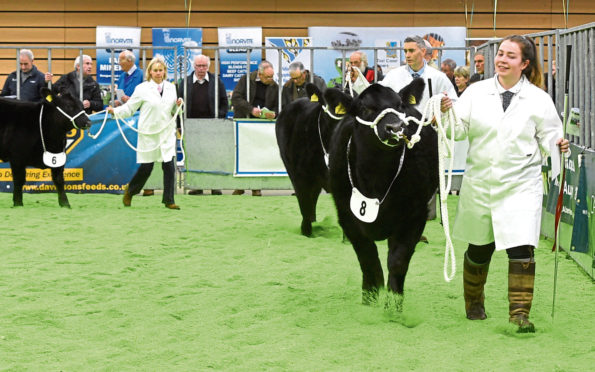 Entries are sought for next month's Black Beauty Bonanza show of Aberdeen-Angus calves and yearlings.
The show, now in its 21st year, is organised by the North-east Aberdeen-Angus Club with sponsorship from Ballindalloch Estate in Banffshire.
The estate is home to the Ballindalloch herd of pedigree Aberdeen-Angus cattle, founded in 1860 by Sir George Macpherson-Grant.
It is now managed by north-east club chairman David Johnstone with support from his wife Susan.
"Ballindalloch has been a revered name in the Aberdeen-Angus world for almost 200 years and we are delighted that the Macpherson-Grant family is continuing to encourage and promote the breed by sponsoring the Black Beauty Bonanza," said north-east club president, Eddie Gillanders.
This year's show will be judged by Dallas Allen, owner of the Stouphill herd in Northumberland.
The junior showmanship competition will be judged by Ruth Perry from Kent, who is a regional co-ordinator in England for the Aberdeen-Angus Cattle Society's youth development programme.
Next month's show takes place on November 22, at the Thainstone Centre, near Inverurie.
It is open to entries from pure-bred Aberdeen-Angus yearlings and calves born after January 1 2018, and registered in the Aberdeen-Angus Herd Book.
The show will feature a new herd competition for calves from exhibitors who are new to breeding and showing Aberdeen-Angus cattle.
To be eligible for the contest, an exhibitor must have 20 cows or fewer and have started breeding Aberdeen-Angus cattle in the past five years within the north-east club area.
The show will also feature senior and junior stockmanship competitions.
Entry forms are available from event organiser Janelle Anderson at blackbeautybonanza@gmail.com. The deadline is Monday October 28.