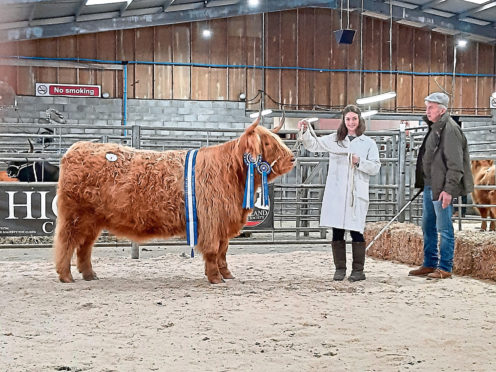 Ardnamurchan Highland cattle breeder Michael Macgregor always joked he made more from photographing his cows than selling them.
That all changed this week when the Macgregor family's three-year-old heifer, Anna of Eilean Mor, walked straight off her rough Ardnamurchan hill and into the Oban sale ring to make the breed's top price of 8,000 guineas.
Mr Macgregor, a professional photographer, and his wife Karen run 10 cows at Port an Airseig in Glenborrodale, Acharacle.
Anna, in-calf to Tiree bull Harris of Balemartine, caught the eye of Richmond farmer Julia Carr, and is now on her way to Marrick Park, North Yorkshire.
Mr Macgregor said: "We keep Highlanders because they're the most practical cattle in our landscape.
"They're like a Victorian painting in their sea loch setting, and they fit into the woodland on the farm. Our previous best price was 3,000gn, so we're thrilled."
Mrs Macgregor added the cattle also acted as a conservation tool by grazing parts of the hill that are protected for the marsh fritillary butterfly.
She said: "We're very keen on the environment, so it's a pleasure to have the animals benefiting nature in this way."
Falko Steinberg bought a selection of females for his growing fold, including the breed champion, Heather 12th of Tordarroch from Farr, for 5,500gn.
At 5,000gn the Browns from Ledlanet, Kinross sold Sine Dhubh 7th of Craigowmill to Julia Carr. Other leading prices included 4,000gn for June 21st of Hyndford from Lanarkshire breeder Alan Prentice and 3,000gn for the Browns' Victoria 22nd of Craigowmill.
Both were bought by Balnagowan Estate, Easter Ross.
Averages: three-year-old heifers, seven, £3,750; two-year-old heifers, seven, £2,625; yearling heifers, 17, £1,173.52; heifer calves, 20, £918.75; bull calves, four, £603.75; and unhaltered calves, eight, £462. Jedderfield dispersal: cows and calves, five, £1,291.50; and cows, five, £540.75.