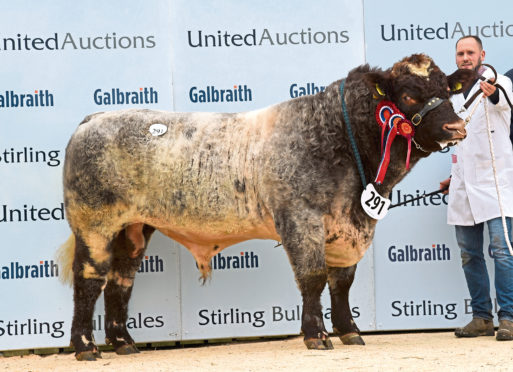 Beef Shorthorns met a selective trade at the Stirling Bull Sales yesterday, when just 12 bulls levelled at £3,439, a drop of £1,048 on the year for three fewer sold.
They reached a top of 5000gn for the overall champion Cherryvalley Oak, a 21-month-old polled bull from Dr Peter Fitzgerald, Crumlin, Co Antrim. By Creaga Logic and bred out of Cherryvalley Bluebell, he sold to Rory Smith of Floors Farm, Grange, Keith.
Next best at 4,000gn was Podehole Rock Master from Charles and Sally Horrell at Thorney, Peterborough.
The first son of Royalla Rockstar to be sold, this 19-month-old polled bull is out of Podehole Madeline Helena and sold to GL Riby, Low Stone Hills, Yorkshire.
The second bull through the ring, Langalbuinoch Legacy, from the McAlister family, Langalbuinoch Farm, Kingarth, Isle of Bute, made 3,600gn when knocked down to DC and JJ Marshall, Beeches, Biggar. He is a 26-month-old son of Newfield Tarquin, out of Langalbuinoch Carly.
Also selling for 3,600gn was John Elliot and son John's reserve champion from Roxburgh Mains, Kelso. This was Elliot Houdini, a polled February, 2018-born bull by Sull Cyclone.
He heads to work with Messrs Barr, Thirlestane, Lauder.
Meanwhile, females met a stronger trade when 54 sold to average £2,440, a rise of £14 on the year.
They peaked at 7,000gn for the champion, Millerston Augusta Mint from Jack Ramsay's Millerston herd at Mauchline, Ayrshire.
Selling to AC Farms, Langham, Rutland, she is an April, 2018-born daughter of Meonhill Charlie Chaplin.
Draft females from L Townsend's Coxhill herd at Moffat topped at 5,500gn, 5,000gn and 4,600gn.
Dearest was Coxhill Menna, an 18-month-old heifer by Ballylinney Glenn, which sold to Gates Farming, Rosemore Manor, Summerby.
Next best at 5,000gn when knocked down to Thomas Staunton, Kinvara, Co Galway, was Coxhill Princess, a similarly aged daughter of the same sire.
Selling for 4,600gn to Messrs Woodburn, was the 17-month-old Coxhill Urymaid, by Glengloy Callum.
The reserve champion from Dr Peter Fitzgerald made 5,000gn when sold to Leanne Green, Lisburn.
This was Cherryvalley Denise Olea, an April, 2018-born heifer by Creaga Logic.
Two heifers by Knockenjig Hercules, from Charles and Sally Horrell, sold for 4,500gn apiece.
First at this money when purchased by Gates Farming, was Podehole Irene Melody, a 19-month-old heifer which stood yearling heifer champion at the Great Yorkshire Show.
The other at 4,500gn was the 19-month-old heifer Podehole Tessa Moneypenny, which sold to AC Farms, Langham.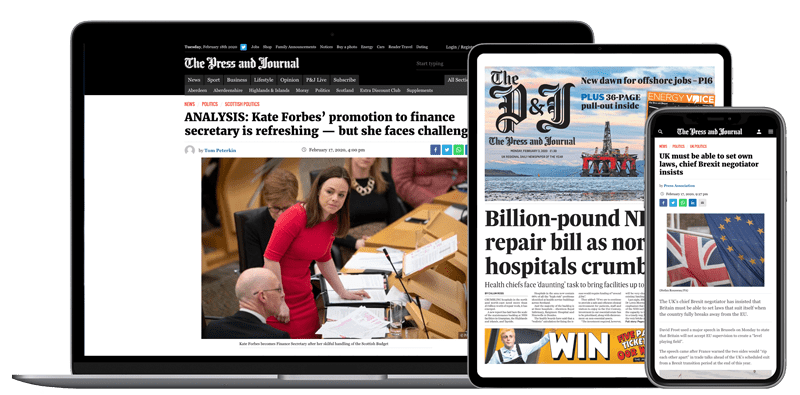 Help support quality local journalism … become a digital subscriber to The Press and Journal
For as little as £5.99 a month you can access all of our content, including Premium articles.
Subscribe