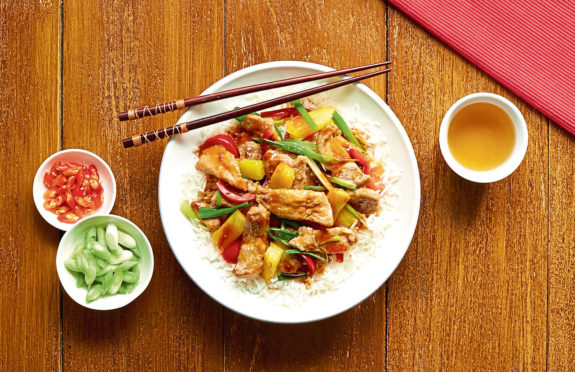 A campaign encouraging shoppers to try new recipes with Scottish pork has been hailed a success.
The Go Places With Pork campaign, run by Quality Meat Scotland (QMS), first launched in January with a TV advert featuring two grandparents showing their granddaughter pictures of different world cuisine they had made at home with Scottish pork.
The campaign was then given another boost over a four-week period in August and September, by encouraging shoppers to recreate their favourite takeaway meals at home using Specially Selected Pork.
QMS said data from grocery industry research group, IGD, showed 66% of Scottish adults had seen the TV advert at least once, 46% had seen it three times, and the same amount said they remembered seeing the advert.
The red meat levy body said the second tranche of marketing activity in the autumn also boasted positive results with an increase in the amount of people who remember seeing campaign activity to 55%.
Other IGD data reveals 57% of shoppers were able to recognise the blue Specially Selected Pork logo after seeing the campaign, and 68% said they believed the logo was associated with higher standards.
More than a third of shoppers, 37%, who recalled seeing the campaign said they went on to cook a Specially Selected Pork recipe at home.
"The initial Go Places with Pork campaign was our most successful marketing campaign ever delivered for Specially Selected Pork, doing a fantastic job in raising levels of awareness of Specially Selected Pork – a product that is underpinned by high productions standards and animal welfare," said QMS director of marketing and communications, Lesley Cameron.
"To achieve these results on the campaign's second time around is a great result and many thanks to the farmers, butchers and chefs who got behind the campaign."