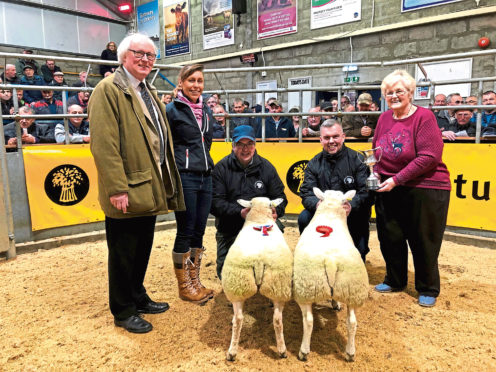 A Charolais cross bullock landed the prime cattle championships at Aberdeen and Northern Mart's annual Christmas show and sale at the Caithness Livestock Centre.
Selected by judge Bill Cameron, Burnside of Edingight, Grange, the 20-month-old, home-bred bullock weighed 621kg – from Michael Shearer, Lythmore, Westfield, Thurso.
Bred out of a Simmental cross Limousin dam, he sold for £3,000 to Murray Lamont and his daughter Jennifer, of Mackays Hotel, Wick, who were buying at the event for the 22nd consecutive year.
"We are delighted to secure the prime cattle and lamb champions at another show and sale of quality stock," said Mr Lamont.
"Producers will be able to taste the champions at our annual Taste of Caithness Champions Dinner held in the spring at Mackays Hotel."
The reserve title went to a Charolais cross heifer, weighing 636kg, from D Coghill and Sons, Skinnet Farm, Halkirk. He sold for £1,513.68 (238p/kg) to John M Munro, Dingwall.
Bower Young Farmers Club member James Gunn, Whitefield, Wick, lifted both the champion and reserve honours in the Young Farmers' section.
His champion, a British Blue cross heifer weighing 555kg, sold for £1,900 to Balfour Baillie, Sebay View, Tankerness, Orkney, while the reserve champion, a 636kg Charolais cross bullock, made £1,561.36 (232p/kg) to John M Munro, Dingwall.
William Barnetson, and sons James and Will, Lynegar, Watten, scooped the best Aberdeen-Angus award for a bullock weighing 705kg which sold for £1,677.90 (238p/kg) to AK Stoddart, Broxburn.
Meanwhile, the open prime lamb champion title was awarded to a pair of Beltex cross Charollais lambs from Kenny Sutherland and sons Stephen and Kenneth, from Stainland and Sibmister Farms, Castletown, Thurso.
Weighing 42.5kg each, they sold for £300 per head to Mackays Hotel, Wick. The reserve title went to a pair of Texels, weighing 51.5kg, from JM Sutherland and Sons, Borrowston Mains, Dounreay. They sold for £115 per head to John M Munro, Dingwall. In the Young Farmers' section, the top price went to another Bower club member when Alistair McCarthy, East Mey, Thurso, ruled supreme for a second consecutive year with a pair of home-bred, Beltex cross lambs scaling 43.5kg. By a Beltex tup and bred out of Texel cross ewes, they sold for £160 apiece to John M Munro, Dingwall.
The same buyers paid £100 per head for the reserve pair from Angus Brims, Thuster Mains, Bilbster. These were two home-bred, 55kg, Texel cross lambs.