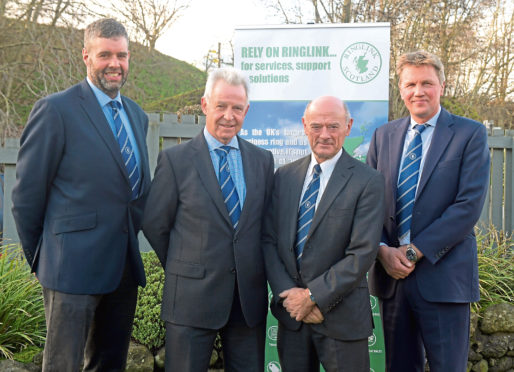 The outgoing chairman of Scotland's largest machinery ring has called for some of the £160 million convergence funding to be used to fund training schemes for youngsters.
Laurencekirk farmer Andrew Moir, who retired from the role of chairman at Ringlink this week, said he was disappointed with the allocation of the first tranche of convergence funds.
Convergence funding is additional Common Agricultural Policy cash allocated to the UK to bring Scotland's per-hectare subsidy average up.
At the time of its allocation, not all the money came to Scotland and Chancellor Sajid Javid vowed to "correct that decision" by awarding £160 million to Scots farmers earlier this year.
Mr Moir has criticised the Scottish Government's spending plans for £80m of the cash – the plans for the rest of the money are yet to be announced.
Describing it as a "missed opportunity", Mr Moir said some of the funding should be used for schemes like the ring's pre-apprenticeship programme.
The programme, which first launched as an internship in 2013, offers youngsters a three-week training course at Scotland's Rural College (SRUC) followed by a six-month placement on a farm or rural business.
"What a missed opportunity not to put some of that (convergence)money into the likes of the apprenticeship scheme," said Mr Moir at the ring's annual general meeting at the Thainstone Centre, Inverurie.
"We don't want it all, but some of that money should be put in to help schemes like the pre-apprenticeship. It's money to invest in our fantastic industry."
Ringlink's group operations manager, Gail Robertson, said the scheme had been successfully rolled out to other machinery rings across Scotland this year thanks to £100,000 Scottish Government funding.
However, she warned that future funding for the scheme had not been confirmed by Hollyrood.
She said 77 youngsters had gone through the scheme in the past six years, and 29 were expected to finish the course across Scotland next month.
She added: "We need to look at this as long-term investment in people for the future. We need to make agriculture a career destination of choice."
Meanwhile, Angus soft fruit grower, James Porter, has been appointed the new schairman of Ringlink.
Mr Porter, who farms at East Scryne, near Carnoustie, is joined by new vice-chairman Peter Chapman, who farms at South Redbog, Strichen.