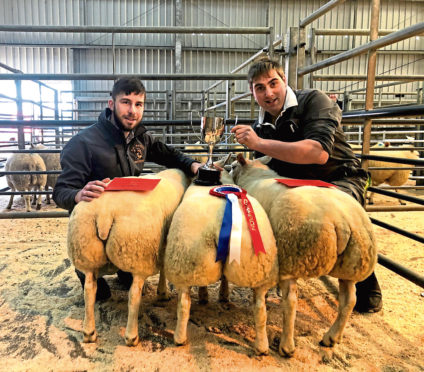 A pen of home-bred Beltex cross lambs from Willie and John Brown, Hilton of Culsh, New Deer, ruled supreme at United Auctions' Christmas show and sale at Huntly Mart.
In total, 2,296 prime sheep sold through the sale ring, with no fewer than 39 pens forward for the pre-sale show, judged by Stewart Mackie of SA Mackie Butchers, Aberlour.
New season lambs averaged 180.79p per kg for 1,292 sold.
Securing a second championship win for the Browns was a pen of three weighing 48.6kg apiece.
By Tiree Bill, a Beltex tup bought at United Auctions in Stirling and bred out of home-bred Texel cross ewes, they sold for the top price of £200 per head (412p/kg) to Forbes Raeburn Butchers, Huntly.
Another regular consignor, Angus Greenlaw of Sheep Park Farms, Bridge of Marnoch, Huntly, lifted the reserve honours with a trio of Blue Texel cross lambs scaling 53kg.
Sired by a privately purchased Hunters tup and bred out of Texel cross ewes, they sold for £130 (245p/kg) each to the judge Stewart Mackie.
This was Mr Greenlaw's first reserve win, having won the championship a total of 14 times over the years.
Other notable prices included £114 for the third prize Texels weighing 49.6kg from Hilton of Culsh, while the third prize continentals scaling 52.6kg from Sheep Park Farms made £105.
The first prize pen of Suffolks weighing £90.50 from Mains of Tillymorgan, Culsalmond, Insch, sold for £90.50, while the winning trio of Mules scaling 52.3kg from Honeysuckle Cottage, Knock, Huntly, made £89.
Meanwhile, the Shearers from Hillhead of Mornish, Glenlivet, stood first in the Blackfaces with a pen weighing 48.6kg which sold for £86.50.
Outwith the show, a mixed show of lambs were forward and saw trade peak at 241p/kg and £106 for 44kg Beltex from Parrock, Rothiemay.
The 1,004 ewes peaked at £109 for Suffolks from South Greycair.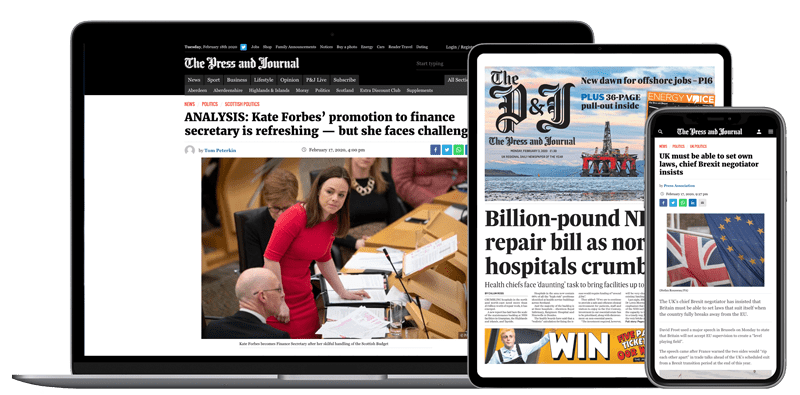 Help support quality local journalism … become a digital subscriber to The Press and Journal
For as little as £5.99 a month you can access all of our content, including Premium articles.
Subscribe