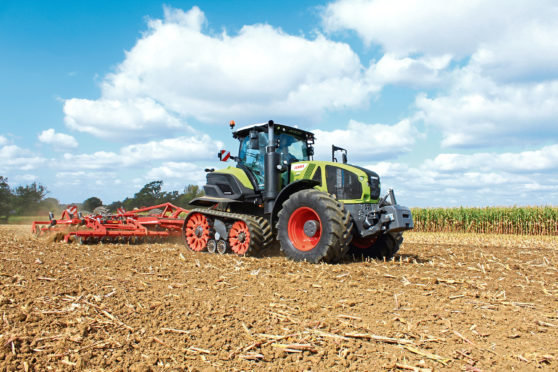 Despite considerable improvements in tractor tyre design, resulting in further advances in traction, flotation and load carrying capacity, there is still a school of thought that "tracks are best" when it comes to converting copious quantities of power and torque into useful work.
And next year, farmers and contractors who like tracks will have two more options to consider.
These are the first semi-tracked tractors from Claas and a four-track option at a similar power level from John Deere.
Track systems for otherwise wheeled tractors have exclusively used the high drive wheel concept, resulting in a triangular route for the rubber traction belt, to use existing axles without any complex drop gears.
But Claas has adopted its parallel Terra Trac design to convert its Axion 900 into a half-tracked power unit with steering front axle, which makes sense given that a good number of these track assemblies are built for the company's Lexion combines.
So-called "saxophone" castings place the tractor's rear axle at the correct height, while drive is transferred by a cardan shaft from the transmission and a larger drive wheel on the track assembly handles the additional power and torque of the tractor application.
Claas claims two "firsts" for the Axion 900 Terra Trac, which comes with engine outputs of 355hp for the 930 and 445hp for the 960 and the standard CMatic CVT transmission.
It is the first half-tracked tractor configuration with full suspension and the first with tracks that can pivot (plus 8 to minus 15 degrees) over an undulating surface.
Total footprint of the widest 890mm traction belt is 3.87sq m, which is said to be 35% larger than the footprint of a 900/60 R42 tyre, resulting in 15% greater tractive effort and 50% lower ground pressure, according to Claas calculations.
Meanwhile, John Deere has gone down the "triangular tracks" solution for the four-track version of its latest 8R Series tractors. This gives farmers a third choice in the Deere range alone – 8R all-wheeled, 8RT with two extended tracks (ie no front axle), and the 8RX with tracks at each corner.
All three options are available at four performance levels from 341-357hp to 443-458hp with either the e23 powershift transmission or (with the exception of the top model) with AutoPowr infinitely variable drive.
Deere reckons the all-tracks configuration is significantly more stable on hillsides than industry-standard two-track systems, while performing well in more challenging soil conditions thanks to better self-cleaning ability.
Traction belts in widths from 41cm to 76cm provide a total ground contact area of more than 4.5sq m.