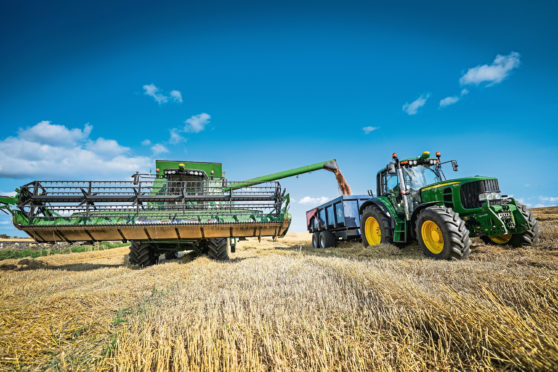 The amount of cereals grown by Scottish farmers was up 22% this year to the highest level since 2015, according to Scottish Government figures.
The final estimates for the Scottish cereal and oilseed rape harvest also reveal winter barley had the largest increase in production – up 49% to 398,700 tonnes.
Overall yields were up 19% on last year, and the average wheat yield of 2.87 tonnes per acre was up 28% on last year and the highest in 20 years.
Spring barley production was up 11% to 1.544 million tonnes, with average yields the highest in 20 years at 2.6 tonnes an acre.
Rural Economy Secretary Fergus Ewing praised the success of Scottish arable farmers.
However, NFU Scotland (NFUS) urged caution and said yield did not always equate to profit.
"Fantastic weather in the spring and summer had set the industry up for record yields but harvest was hard won," said NFUS combinable crops committee chairman Ian Sands.
"After a protracted spell of poor weather, most crops incurred very high drying costs."
He said prospects for Harvest 2020 were already challenging due to wet weather preventing or water-logging autumn crops.