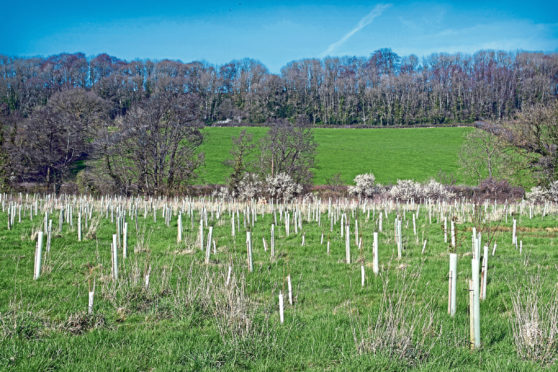 Scotland's agricultural industry can cut its greenhouse gas (GHG) emissions by more than a third by taking steps including turning organic and planting more trees, a report suggests.
Researchers studied dozens of measures farmers could take to help tackle the climate crisis and found a 38% emissions reduction could be achieved by 2045.
This finding surpasses the 35% threshold which earlier research indicated is necessary to achieve the government's target of net-zero emissions by 2045.
The report, Delivering On Net Zero: Scottish Agriculture, was commissioned by environmental charity WWF Scotland and carried out by the Organic Policy, Business and Research Consultancy.
Researchers studied 37 measures including reducing nitrogen fertiliser use, the use of feed additives to reduce methane production from animals, and improving animal health.
Among the changes behind the largest potential cuts to emissions was turning organic – which was found to deliver more than a quarter (27%) of the target with 40% uptake.
Agroforestry is predicted to deliver a fifth (21%) of the target with just 30% uptake, assuming 10% of farmland is used for trees.
WWF Scotland is calling on the Scottish Government to review support for farmers to help them achieve the target.
Sheila George, the charity's food and environment policy manager said: "Agriculture is at risk from a changing climate but can be part of the climate solution.
"By adapting our farming methods, Scotland could be at the forefront of the global transition to climate-friendly farming with unique export and branding opportunities arising."
A Scottish Government spokesman said the agricultural industry was part of the solution to climate change. He praised the 29.4% reduction in emissions since 1990 but said more needs to be done to reach net zero by 2045.