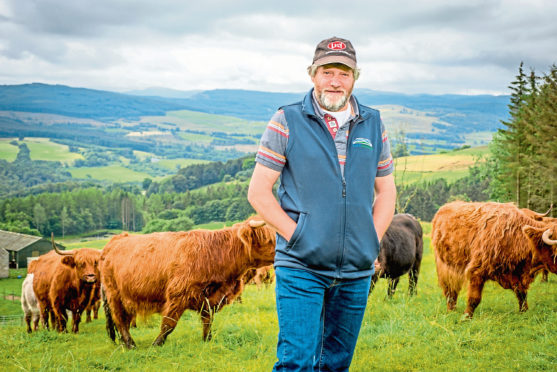 An industry call to arms urging all producers to get involved in a celebration of farming on Scotland's city streets has been issued by Aberfeldy farmer and union vice-president Martin Kennedy.
Events including food tastings and barbecues, where farmers will meet the public and raise awareness of the benefits of eating Scottish produce, are planned in Dundee, Aberdeen, Edinburgh, Glasgow and other towns and cities across the country on May 23.
Mr Kennedy said events would take place on high streets and in retail parks and supermarkets, and farmers would be equipped with factual information to hand out to customers.
"The one thing we can all do is give a little time to try and help the industry. NFU Scotland and others will provide the information that's required and events will be coordinated through our team of regional managers," he said.
"We want every member and their family to be involved," he said, adding that it could be a game-changer."
He said it was an opportunity to showcase the reasons Scottish farmers should be proud of what they produce at a perilous time for the industry.
"We are worried about the damage that could be done to us from trade deals that would see us competing with food that doesn't come close to meeting our high standards," he said.
"They could wipe the floor with us, so we need to get the true facts and our story out there, and this is a great opportunity."
Mr Kennedy insisted information given to the public would be independently produced and scientifically verified. He urged Scottish politicians to back the event.
He added: "We've got something to be extremely proud of, so let's take this opportunity on May 23 to shout it from the rooftops."
NFU Scotland will join the other UK farmers' unions in a Westminster rally on March 25 to urge government to commit that any future trade deals will not allow imports of food produced to standards illegal in the UK.