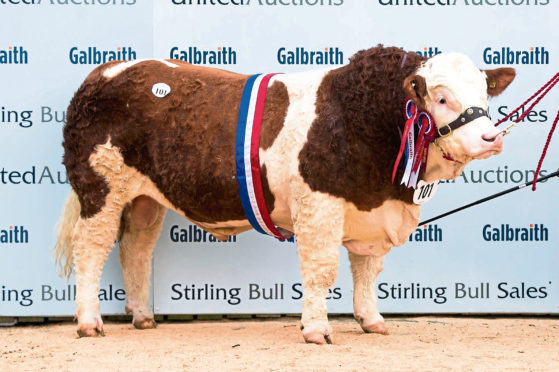 Simmental trade was "better than expected" at the Stirling Bull Sales yesterday when 86 bulls sold to average £5,039.
Breed society council member Simon Key said trade was better than he expected at a sale where only 67% of the 127 bulls on offer found new homes.
He said the average was up £64 on the year for 12 fewer bulls sold.
The sale topped at 18,000gn for the overall and intermediate champion from the King family's Wolfstar herd at Ormiston, East Lothian.
This was June 2018-born Wolfstar Jackaroo, by Team Celtic and out of Wolfstar Ellie. He sold to the judge Phillip Simmers, from Backmuir Trading, Keith.
Mr Simmers, who judged the entries with the help of his son Reece, also paid the next-best price of 17,000gn for the reserve senior champion.
This was another entry from the King family's Wolfstar herd – May 2018-born Wolfstar Jimmy Choo, by Islavale Guy and out of Wolfstar Forget-me-not.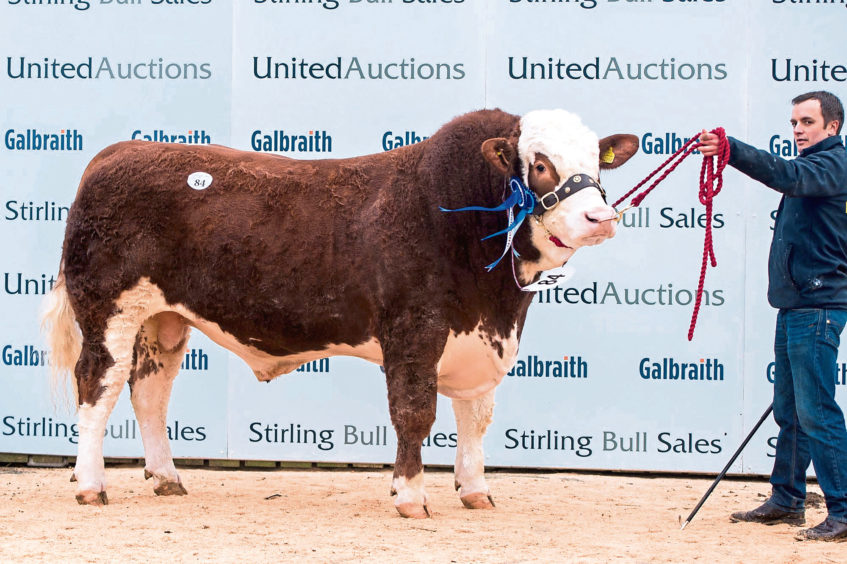 Next best at 10,000gn was a first-prize intermediate bull from youngsters Kate and Alan McNee, whose parents Robert and Hazel run Over Finlarg Farm at Tealing, near Dundee.
The brother and sister duo's first bull ever sold was June 2018-born Finlarg Jaguar, by Team Drambuie. He sold to S McClymont & Son, Tinnis, Selkirk.
The next-best price of 9,000gn was paid three times. The first, selling to Philiphaugh Estates, Selkirk, was July 2018-born Ranfurly Jackpot, by Auchorachan ACDC, from the Hazeltons at Dungannon, Northern Ireland.
The second at 9,000gn was 17-month-old Corskie Jackpot, by Dirnanean Bradley, from the Green family at Corskie, Garmouth, Fochabers. He sold to the Gunns at Mavsey, Lybster, Caithness.
The third lot at 9,000gn was September 2018-born Saltire Jaguar, by Team Celtic, from the Houlistons at Drem, North Berwick. He sold to JA Griffin, Hemingford, Cambridgeshire.
Next best at 8,200gn was Broombrae Joey, by Corskie Elgin, from the Clarks at Broombrae, Auchtermuchty. He sold to R Forrest Ltd, Duns.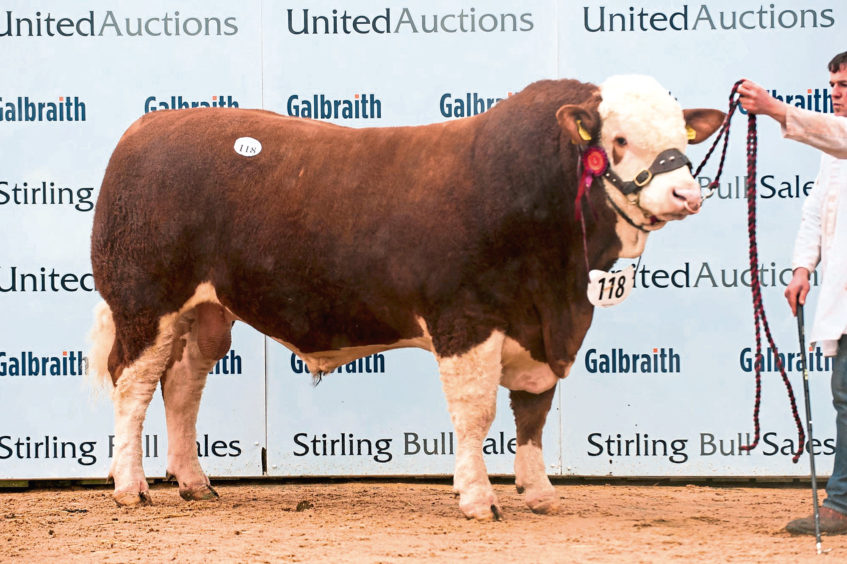 Other leading prices included 8,000gn for Blackford Jumbo, by Blackford Galaxy, from the MacPhersons at Blackford, Croy, Inverness. He sold to A Wright, West Lundie, Argaty, Doune.
Another Blackford entry – Blackford Juggernaut, by Blackford Galaxy – made 7,500gn to Ardhuncart Farm, Kildrummy, Alford.
Brechin breeder Heather Duff's sole entry sold for 7,200gn to JW Fullerton, Corsbie, Earlston. This was Pitmudie Joskin, by Dellfield Goldeneye.
The reserve overall champion – Corskie Jalex, by Dirnanean Bradley from the Greens at Corskie – sold for 7,000gn to C & G Thomson, Wester Tulloch, Midmar.
The Stronach family, which runs the Islavale herd at Berryleys, Grange, sold to a top of 7,000gn for Islavale Jeronimo, by Ranfurly Confederate. He sold to the Maxwells at Jaw Farm, Fintry.
The Smiths, who run the Drumsleed herd at Fordoun, Laurencekirk, sold to a top of 6,000gn for Drumsleed Jakarta, by Wolfstar Gordy. He sold to DN Campbell, Bardnaclavan, Westfield, Thurso.