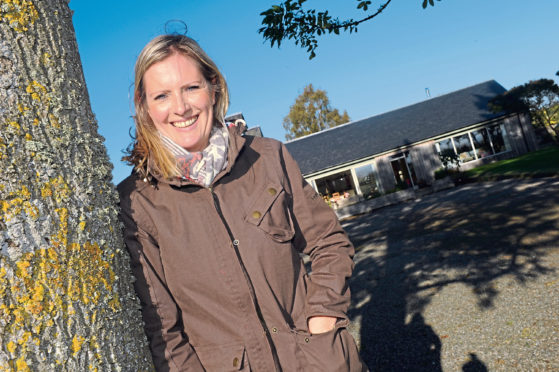 It's difficult to write about the everyday in such troubling and uncertain times but with 130-plus cows and a bumper number of calves on the farm right now, taking care of and milking the Rootfield herd doesn't stop … even for coronavirus.
My husband Nick is keenly aware, however, of the potential for things to grind to a halt in the event, however slim, of his workforce – or someone in their families – all contracting the virus at the same time (valued team member Ian is currently stranded in Lanzarote with his young family).
This threat along with my father-in-law, Dereck, who oversees the running of their sheep and young stock holding, going into self-isolation, plus my own susceptibility to infection due to an underlying health condition, have all compelled my usually cool-headed other half to put safety measures in place to protect staff and customers. Not only are the production team sanitising the honesty shop several times a day and wearing protective gloves while they work, but Alan and Rosie are now working different shifts to avoid one another.
Deliveries to trade now involve the absolute minimum of social contact; very much a drop and go. It all seems a bit unfriendly, but we'd clearly rather keep everyone safe and continue deliveries for as long as we can, particularly to more isolated local communities such as Cromarty.
Nick has also introduced a two-metre distancing rule for himself and Scott, from each other and from visitors to the farm, all in a bid to try to reduce risk of infection.
Pre-Covid-19, the big issues at Rootfield were TB testing (all clear) and the ongoing wet weather – the second wettest February in Scotland since 1990 and the wettest in the UK ever, according to the Met Office.
The ground was, and still is, woefully soggy but fortunately dried up enough for some much-needed drainage work to take place.
Our diligent local contractor and friend, Steven McPhee, has worked around the clock to sort out two areas of the farm – a flooded field and making good some ground near the dairy production kitchen for a new-to-us container unit, sourced and delivered by another local firm and friend, Jonathan Coates.
In order to take advantage of bulk discounts, ice cream tubs, lids, glass milk bottles and Napoli containers are ordered in their hundreds, sometimes thousands, and storage for these has outgrown our former facility.
Having a dedicated container for all our predominantly recyclable packaging will facilitate clearer stock inventory and give us a place for our growing supplies. It will also house our increasing stock of event equipment and decorating paraphernalia.
Although it seems trivial in the current climate to write about the pop-up Waffle Barn, which we ran over Valentine's, in the spirit of distraction I'm happy to share that it was a success. Yet with all that's happened since, waffles and social gatherings seem a world away.
Having made the decision to close my personal Facebook account at the beginning of February, I have ended up reactivating to keep abreast of friends and family in different parts of the country, indeed the world, and how the pandemic is affecting them.
Yet even before coronavirus became big news, I realised quickly – and frustratingly – that with so many businesses, organisations and school groups using Facebook as their principal means of communication, I felt obliged to remain on social media just to stay informed on current events in our area.
In its favour, for now at least, is the shared sense of community and support coming through Facebook whether it's via the ViralKindness campaign or through shared stories of hope and messages of encouragement going forward.
The impact of social isolation for the elderly, vulnerable and those in rural areas is a perennial issue and is about to become even more acute in the months to come.
Stay safe and keep connected everyone.
Jo lives at Rootfield Farm on the Black Isle, located 10 miles north of Inverness