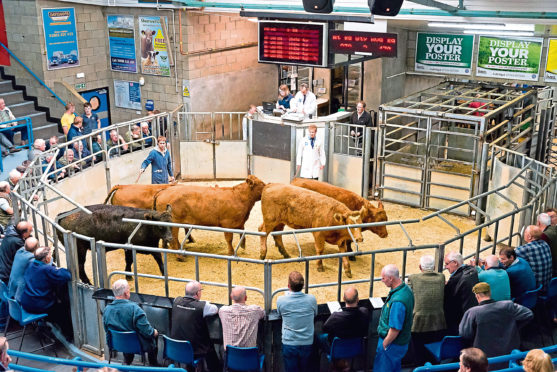 Farmers, crofters and hauliers are being asked not to attend livestock markets after dropping off animals for sale.
The guidance has been issued by the Institute of Auctioneers and Appraisers in Scotland (IAAS), which represents livestock markets, valuers and auctioneers, in response to the coronavirus pandemic.
"It is vital for farmers, the rural economy and the wider food chain that marts can continue to operate during the Covid-19 crisis and especially during any government-imposed lock- down or quarantine-type situation," said IAAS executive director Neil Wilson.
"IAAS members absolutely agree that it is critical that human health is always protected.
"Our aim here is to present a workable solution to limit exposure to Covid-19 through marts while ensuring the livestock trade continues in a measurable and safe manner in the event of a lockdown situation."
The guidance asks hauliers and farmers to unload livestock into pens beside a market's loading bay, and to leave the premises.
Mart staff will collect livestock from the loading bay pens, and collect any required paperwork from the driver at a safe distance, although farmers are asked to email the paperwork to marts where possible.
Buyers are asked to pre-register their attendance at any sale, and be prepared to sign in and out of auction mart premises as only pre-registered buyers will be allowed access to marts.
They must declare that they have not been in contact with a positive coronavirus case, and not visited a high-risk area during the previous 14 days.
Buyers will be asked to keep a distance of two metres from each other around the auction ring, and to make use of biosecurity measures including handwashing areas and foot dips.
The guidance for collecting stock after a sale is for hauliers and farmers to remain in their vehicles until a loading bay space becomes available.
When a bay becomes available, they are asked to reverse into the bay and inform mart staff, from a distance, that they have a consignment to collect.
Mart staff will deliver livestock to the pens, along with any necessary paperwork, and the farmer or haulier can then load their lorry or trailer before leaving the mart.
The guidance also asks that no additional visitors be admitted to the mart on sale days, and for all mart cafes to remain closed.