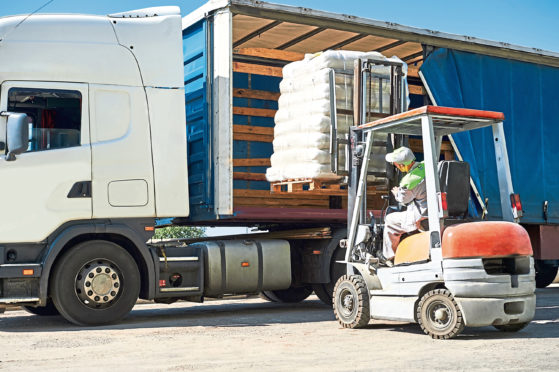 Farmers are being reminded to keep their distance from delivery drivers and follow government social distancing guidelines.
NFU Scotland (NFUS) has issued a Drop 'n' Go guide with advice for farmers receiving essential deliveries of inputs such as fertiliser and animal feed.
The guide asks farmers to leave hand sanitiser, or soap near an easily accessible outside tap, to allow drivers to wash their hands after making a delivery.
It asks farmers to identify a specific drop-off point, and have this agreed ahead of time, to minimise contact with delivery drivers.
In instances where contact cannot be avoided, both parties must stand at least two metres apart, and farmers should avoid accepting any handheld devices to sign for a delivery. If a signature is required, this should be discussed beforehand, and an electronic alternative should be agreed.
NFUS head of policy, Gemma Cooper, said: "Drivers are supplying an essential service by keeping our inputs well stocked to ensure farmers can keep providing food for us all.
"However, this process introduces risks for both haulage and farming communities alike.
"We want all our essential workers to stay safe and healthy, therefore it is essential that strict social distancing practices and good hand hygiene are used to prevent the spread of coronavirus."
Road Haulage Association director for Scotland and Northern Ireland, Martin Reid, backed the guidance and said drivers should be given access to wash their hands at each drop-off or collection point.
He added: "Drivers are key workers and keeping them healthy will ensure the economy keeps moving and these essential products continue to get to their end user."