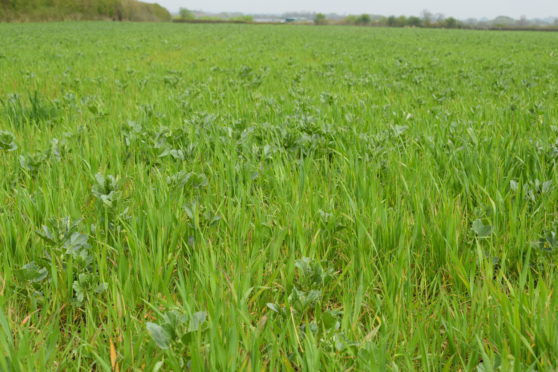 Companion cropping can help tackle weeds and boost yields, according to a farmer-led study.
The project, now in its second year, was led by two farmers in Oxfordshire and Surrey.
They set out to investigate whether companion cropping – growing crops side by side – could reduce weed, pest and lodging problems and boost soil health.
With help from the Innovative Farmers Network – which brings farmers, researchers and funders together – they worked with Organic Research Centre scientists to test the impact of three companion cropping combinations.
They grew linseed alongside oats; peas with oilseed rape and oats and wheat with beans.
Weed biomass in a field of wheat and beans fell 74%, while there was a 17-19% increase in linseed yields when grown with oats.
The study also showed the impact of optimising seed rates when intercropping wheat and beans.The combined yield increased in the second year of this combination to 6.2 tonnes per acre, from F4.2 tonnes per acre in the first year.
This was attributed to a change in seed rates from 71kg of wheat per acre and 51kg of beans per acre in the first year, to seed rates of 40kg of wheat and 81kg of beans per acre in the second year.
Although the trial plots of oilseed rape did not make it through to harvest, pre-harvest monitoring suggested intercropping with peas could boost plant nutrient levels and aid oilseed rape growth. Peas were also found to be an insurance crop if the oilseed rape crop failed.
Oxfordshire farmer James Hares, who intercropped wheat and beans on his organic farm as part of the project, said: "We're growing beans as a crop for our cattle feed but we needed to find a way to reduce the weed burden on the crop."
Pleased at his success, he added: "We don't see bigger trials on heavy land like ours, so to find anything out we have to do it ourselves. You have to be prepared to move with what the results are telling you."