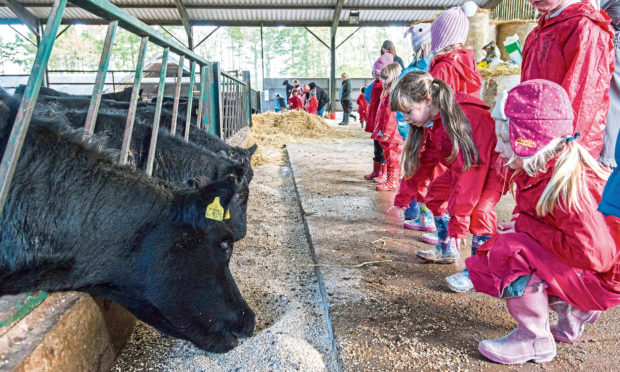 Schools may be closed and children's visits to farms postponed, but Scotland's rural education charity has transferred its work online – and all the proceeds from DC Thomson's virtual show will go to support its efforts.
The Royal Highland Education Trust (RHET) is set to receive all the entry fees that are now pouring in for July's online Scottish Agricultural Show, an opportunity for the farming industry to take part in some competitive fun after the cancellation of all the summer events.
Farmers have until June 19 to enter cattle, sheep, horses, goats and poultry in numerous breed classes, with the chance to win a championship rosette and be entered in the ultimate champion of champions play off.
Scroll up! Scroll up! Here's everything you need to know about Scotland's first virtual agricultural show
It costs £5 to enter a video and full instructions on how to do it are on the show's website, scottishagriculturalshow.co.uk
The event has the support of the Royal Highland Agricultural Society of Scotland – organisers of the Royal Highland Show – which founded the RHET charity to spread the food and farming message by hosting children on farms or introducing farmers to classrooms in communities across the country.
RHET executive Katrina Barclay welcomed the support from The Press and Journal and The Courier.
She said: "We are honoured that the team behind Scotland's first virtual agricultural show have chosen RHET as the beneficiary charity for online animal showing donations.
"We wish all show entrants good luck and hope the show is a great success."
RHET aims to give all young people aged between three and 18 the opportunity to learn about food, farming and the countryside, including tackling often controversial environmental or animal welfare issues.
In normal times a network of volunteer farmers visit schools or welcome classes to show them round their farmyards, fields and woods, but this summer the activity is focused on online videos, quizzes, live feeds and a "cook-along" session at home.
RHET's usual marquee at the Royal Highland Show will also be replicated online with zones for farming and the countryside.
Ms Barclay said the charity was tapping in to a growing appetite for information around food production.

"With people at home and all set up to participate remotely, this is an ideal opportunity for us to work in partnership with a wide range of organisations across Scotland to deliver information to young people and families," she said.
To enter the online Scottish Agricultural Show, pit your stock against the best in the country and help support RHET's work , go to scottishagriculturalshow.co.uk to download an application form.
Entries for the show, which is sponsored by EQ Accountants, close on June 19.