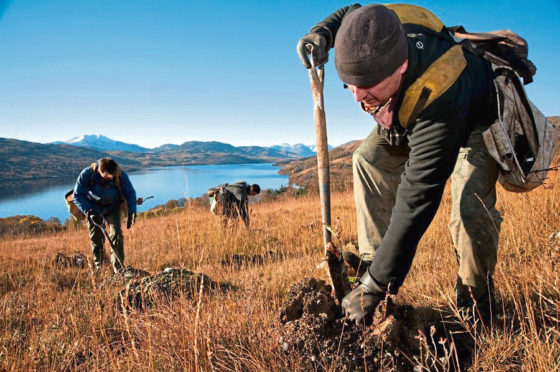 More than 20 million new trees were planted in Scotland last year, according to Scottish Forestry.
Figures from the government agency reveal almost 29,000 acres of new woodland were planted in the year to March 31.
This accounts for more than 80% of all new tree planting across the UK and represents the second-highest level of new plantings in Scotland since 2001.
Rural Economy Secretary Fergus Ewing praised the figures even though the industry fell around 1,000 acres short of its planting target for the year.
"This is an outstanding result, in what were really difficult circumstances," said Mr Ewing.
"A very wet winter slowed planting which then came to a stop as a result of the Covid-19 pandemic.
"This was the right approach – no target is worth pursuing if it puts people's lives at risk."
He said tree planting had resumed with the easing of lockdown measures and a healthy number of woodland creation proposals were coming forward – forestry grants covering 22,000 acres have already been approved for 2020-21 and applications covering a further 17,000 acres are being worked on.
"That is important, not only because of the contribution forestry makes to the rural economy, but also for the role it plays in providing essential supplies for the wider economy," added Mr Ewing.
"That was demonstrated during the pandemic with timber being supplied for construction and maintenance in NHS facilities and for pallets for distributing medical and food supplies."
Forestry and wood trade body Confor welcomed the figures and said the sector was in a strong place to meet its planting targets for this year and beyond.
The organisation's chief executive, Stuart Goodall, said: "We are also in a strong position to play a central role in the green recovery following the enormous difficulties created by the pandemic."