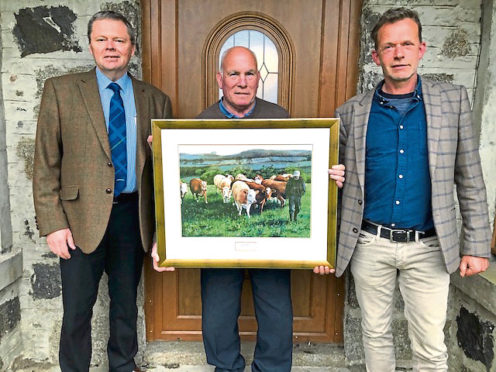 A well-known Maud farmer is this year's recipient of the NFU Scotland (NFUS) north-east region unsung hero award.
The award is presented to a union member in recognition of all the work and effort they have done on behalf of NFUS members in the past year.
It is usually presented at the Turriff Show, however NFUS held a virtual awards presentation due to the show being cancelled this year.
NFUS regional chairman for the north-east, Andrew Connon, and one of his vice-chairmen, Hamish Garland, knocked on the unsuspecting recipient's door to present the award on Thursday evening and the process was live streamed via Zoom.
The winner behind the door was Ian Pirie, from Overton of Bruxie Farm, near Maud.
He has been involved with NFUS for several years and was vice-chairman of the union's New Deer branch between 2011 and 2013, before taking on the chairman job from 2013 to 2015.
He was chairman of the north-east region livestock finishing committee for five years from 2015 and has been a monitor for the New Deer area on the north-east region livestock committee for many years.
NFUS president Andrew McCornick praised Mr Pirie and said he had been at the forefront of many battles on behalf of the farming community.
"He has done a power of lobbying among fellow members and stakeholders to try and improve farming issues," said Mr McCornick.
He said Mr Pirie was never afraid to express opinion or share knowledge, and he added a "heck of a lot of value to debates and discussions".
Mr Pirie, who was given a framed limited edition Angela Davidson print of a farmer and his cattle, was also praised for his involvement in the New Deer Show.
This includes preparing the NFUS stand for the event, engaging with politicians and councillors, acting as a steward and supporting its carcase competitions with entries.