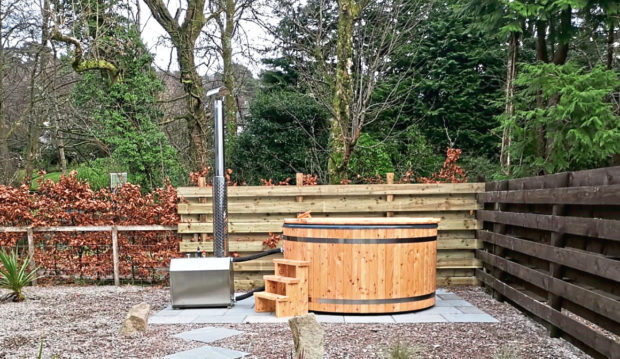 An Aberdeenshire estate is embarking on an extensive tree replanting programme to produce timber for its wooden hot tub business.
Fasque Estate, which stretches across 8,000 acres near Fettercairn, is reforesting more than 1,500 acres of land to meet demand for its forestry and hot tub production enterprises.
Nick Canning from the estate's woodland division, Fasque Forestry, said a move into wooden hot tub production had paid dividends and its products were now being shipped across the UK.
"The concept of using firewood to heat water has been around for centuries," said Mr Canning.
"This combined with our involvement in forestry inspired us to build a range of hot tubs at our nursery suitable for the remote locations that we have in northern Scotland. It is our aim to reconnect people to the land, the trees and the earth."
He said the hot tubs, marketed through the estate's Natural Eco Spas Ltd subsidiary, are handmade in Forres using a combination of modern stainless steel and Scottish larch from the estate.
"The larch is harvested by Fasque Forestry from our woodlands and is then processed at the sawmill on the estate," said Mr Canning.
"The harvested trees are then restocked, ensuring the timber is replaced for years to come."
The hot tubs are heated using an external 25kw wood-burning stove, which circulates hot water back to the hot tub by convection. Mr Canning said it takes around three hours to heat the water to a bathing temperature of 42 Celsius and when the water gets too hot some can be drained away and then topped up with cold water. He said the hot tub requires no electricity, and it can be filled with water from a garden hose or a rainwater collection system.