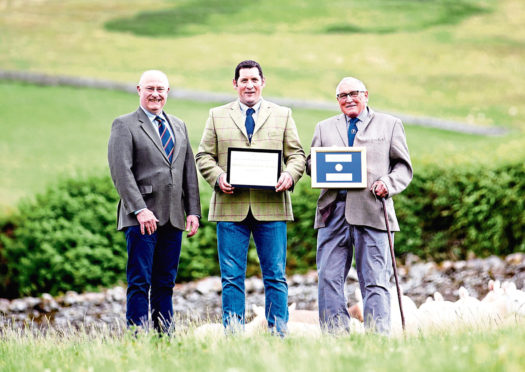 A pair of renowned North Country Cheviot breeders have won one of the livestock industry's most prestigious awards.
Father and son duo Jimmy and Willie Thomson, from Hownam Grange near Kelso, are this year's recipients of the Sir William Young Award from the Royal Highland and Agricultural Society of Scotland (RHASS).
The pair were given the award in recognition of their contribution to the world of sheep breeding.
The Thomson family has tenanted the 1,650-acre Hownam Grange hill farm on the Roxburghe Estate since 1941, where Willie lives with his wife Laura and their three children. Jimmy runs another tenanted farm at Kelsocleugh, near Yetholm, in partnership with wife Peggy.
Two flocks of pure North Country Cheviots – 450 ewes inbye and a flock of 800 hill type ewes hefted on the hill ground – are run at Hownam Grange, alongside a herd of 80 Blue Grey suckler cows.
The family have kept Cheviots since the 1950s and while they kave shown Galloway cattle, Scotch Halfbred sheep and commercial sheep, they are best known for North Country Cheviots.
Sheep from the flocks on both farms have won the overall championship title at the Royal Highland Show several times, as well as the interbreed championship four times and reserve three times.
Other successes include setting a new breed record for a female last year when a ewe lamb sold for £4,500.
On winning the award, Willie said: "The award is as big as it can get in our opinion.
"To be recognised and win such a prestigious award for breeding livestock is a real honour, especially since it is our passion and something which we get a good deal of pleasure from."
RHASS chairman, Bill Gray, congratulated the two and said their repeated success at the Royal Highland Show had been impressive.