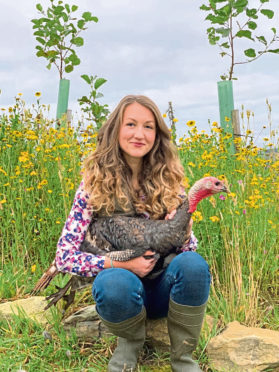 Farmers and crofters are being urged to get involved with the LEAF Open Farm Sunday (Lofs) virtual event this weekend.
Lofs has collaborated with Scottish Food and Drink Fortnight and British Food Fortnight to deliver an ambitious weekend of virtual events, which includes a new cookery element to celebrate farming and the food it produces.
Farmers can take part by sharing pictures and stories through Facebook, Twitter and Instagram using the hashtag #LOFS20.
The event's focus today is nutritious food, seasonal recipes and cookery demonstrations, while tomorrow farmers across the UK are invited to virtually open their farm gates and show the public how their food is produced and the work they are doing to protect and enhance wildlife and biodiversity on their farms.
One participant is Aberdeenshire farmer Rosa Holt – a qualified dietitian with research interests including the link between soil health and human health.
"I'll be showing turkeys and talking about what is grown here in Aberdeenshire and why, as well as why it is good to have diversity in our diet," said Ms Holt, who keeps goats and turkeys.
"There is a growing number of consumers who want to make ethical and healthy food purchases and support local producers. I'm looking forward to the event and I'd encourage others to take part too."
NFU Scotland vice-president Martin Kennedy, who took part in Lofs last year, encouraged his peers to get involved.
He said: "The impact of Covid-19 has turned this into a virtual event."
More details are online at farmsunday.org