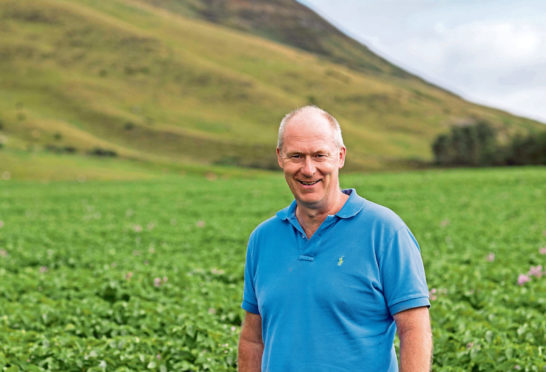 Strict standards covering the seed potato sector have been upgraded to safeguard exports.
A number of changes to the industry's Safe Haven assurance scheme come into force this week.
The scheme, which was established in 2005, covers 60% of all seed potato production in Great Britain with 170 members, of which 162 are based in Scotland.
Originally established to provide additional protection for the industry and its customers from bacterial ring rot, the scheme requires all growers to follow strict protocols to ensure best practice for seed growing and handling.
Its members are audited by Red Tractor and eight new elements have been added to the scheme – water use, tools and equipment, transport, contracted or shared machinery, grading and packing, storage, and traceability.
The scheme will also now cover the disease brown rot and pest epitrix, in addition to the existing coverage of ring rot and dickeya.
"The Safe Haven certification scheme offers growers and their customers valuable backstop insurance," said Robert Doig, director of Perth-based Caledonia Potatoes and a member of the scheme.
"It provides the reassurance that the seed they purchase will be healthy and disease-free and is globally recognised as being a guarantee of quality assurance."
AHDB welcomed the changes and said the scheme was a valuable marketing tool during export trade negotiations.
The levy body's head of export trade development, Patrick Hughes, said: "It is important to regularly review the standards to ensure they are fit for purpose and keep pace with the changing environment we operate in."
He said exports of seed and fresh potatoes from the UK were worth just under £113 million between July 2019 and June this year, with seed potatoes making up the bulk of this trade.
Mr Hughes added: "We work closely with important export destinations for British seed and know that our customers in countries such as Egypt, Israel, and Thailand recognise the standards and the security Safe Haven offers.
"Safe Haven has always been an extremely important export tool and it will play an increased role after the transition period for exiting the EU ends, safeguarding existing markets and helping us to develop future opportunities with international markets."