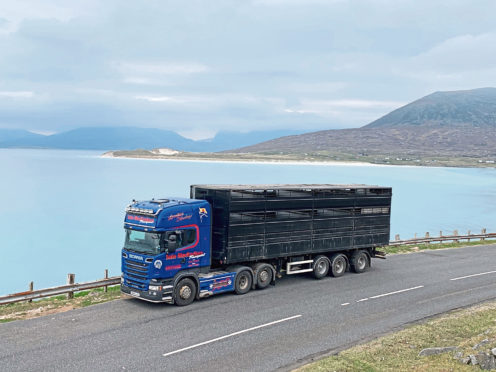 Quality Meat Scotland (QMS) has highlighted the importance of their haulage assurance scheme as an essential element in the "whole chain" assurance programme.
Moray-based operators such as Iain MacEachen, who transports around 12,000 prime cattle and 20,000 lambs annually to Perth, Portlethen and Turriff, and works for the Scottish Government, has taken measures to meet the required standards, and since establishing his business in 2007, his fleet has expanded from three vehicles to five wagons including four Scania "artics" with four-deck Houghton trailers and an eight-wheeler Scania which now includes lifting decks.
He said: "When I first started, I couldn't pick up any pig work because all of the trailers had unsuitable ramp elevations for pig loading.
"I bought four trailers which have suitable ramp angles, meaning we can now offer a haulage service to pig farmers. We updated our eight-wheeler to include lifting decks.
"The lifting decks mean there is virtually no stress or risk to any of the animals and we have found more farmers are relying on us to move in-lamb ewes, gimmers and hoggs to and from seasonal grazing to reduce animal welfare issues."
The investment to meet the QMS standards has brought a year-on-year increase in business for Mr MacEachen.
Only operators approved by the Haulage Assurance Scheme can transport animals for the Scotch Beef PGI, Scotch Lamb PGI and Specially Selected Pork brands.