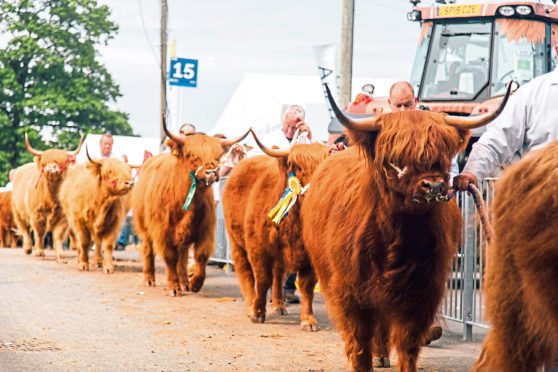 A major fundraising campaign to secure the future of Scotland's largest agricultural show has received donations worth £70,000 since it launched four weeks ago.
The Royal Highland and Agricultural Society of Scotland (RHASS), which organises the four-day Royal Highland Show in June each year, is seeking to raise £2 million to safeguard the future of both the society and the show.
The society was forced to cancel this year's show due to Covid-19 restrictions.
It said cancellation of the show, which attracts more than 190,000 visitors each year, along with the loss of income from other events at its showground at Ingliston, near Edinburgh, had left a hole in its finances worth more than £6m.
RHASS chief executive Alan Laidlaw said a "root-and-branch review" of the society's income and expenditure had been carried out at the request of its board.
This resulted in cutbacks being implemented, including senior management pay cuts and a significant number of redundancies, mainly in the society's events team.
He said the society had also taken advantage of the government's furlough scheme and it had been successful in securing a resilience grant from the Scottish Government.
"We have a responsibility as a charitable organisation with thousands of supporters and stakeholders to do all in our power to make sure both show and society survive and that we increase our charitable impact for the next generation and for Scotland's rural industries," added Mr Laidlaw.
He praised the initial success of the £2m fundraising campaign – which could be met with a £125 donation from each of the society's 16,000 members – and said planning was now under way for the 2021 show.
"We are committed to hosting the 2021 Royal Highland Show in whatever capacity we are able to do so," added Mr Laidlaw. "However, we also want to be able to celebrate the 200th show in 2022
"It is likely that the income generated next year by the show, upon which the society relies, will not reach the level of a normal year.
"This campaign therefore is about more than 2021 – it's about securing RHASS' future and the next 200 years of shows."
RHASS chairman Bill Gray added: "We have been heartened by the response to the campaign, but it is early days yet and there is a long road ahead of us."