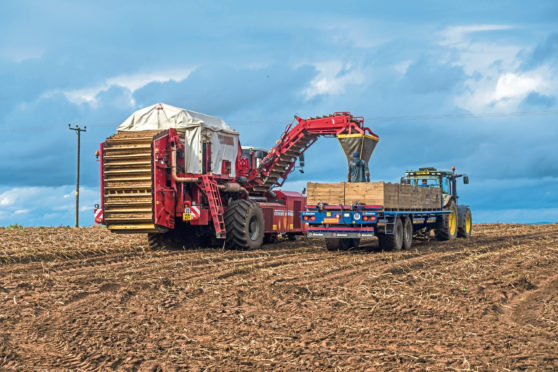 Leaving the EU without a Brexit deal will hamper a vital export market worth an estimated £22 million to the UK economy every year, farm levy body ADHB has said.
The warning comes as Prime Minister Boris Johnson tells the UK it has to "get ready" for no trade deal being reached with Europe by the end of the transition period this year.
AHDB head of export trade development for potatoes, Patrick Hughes, said failing to secure a Brexit trade deal would stop all UK potato exports – both seed and ware – to Europe.
"They will stop until equivalence is agreed, but that could be a significant period of time," said Mr Hughes.
AHDB figures show exports of seed and fresh potatoes from the UK were worth just under £113m between July 2019 and June 2020. Europe accounted for around a fifth of these exports, equating to sales worth just over £22m.
The bulk of these exports were seed potatoes, of which the majority are grown in Scotland – although established markets exist outwith Europe, Brexit remains a key concern for Scottish growers.
Mr Hughes said once a trade deal is reached with Europe, potato growers will face new tariffs for exporting their produce.
These are likely to be 4.5% for seed, 9.4-11.4% for fresh potatoes and 14.4% for frozen. Likewise, imported potatoes will also face tariffs of 4% for seed, 8-10% for fresh and 14% for frozen.
"In addition to tariffs, logistical delays and increased red tape around the border will add to the cost of doing business," added Mr Hughes.
He said in order to trade with Europe the UK would be considered a third country and it would need to apply for third country equivalence.
This would require EU officials to investigate the UK's phytosanitary – plant health – protocols to ensure they meet European standards.
"If third country equivalence is granted, seed intended for EU markets will need a phytosanitary certificate or additional testing to comply with EU regulations," said Mr Hughes.
"This may make exports to the EU more expensive and less competitive against our European counterparts."
He said growers were also concerned that leaving Europe, in whichever scenario, will have a detrimental impact on access to new genetics and varieties from Europe.
"Varieties on the EU's common catalogue will need duplicate testing to be added to the UK's national list," said Mr Hughes.
"This could delay introduction by five years compared with the current process."