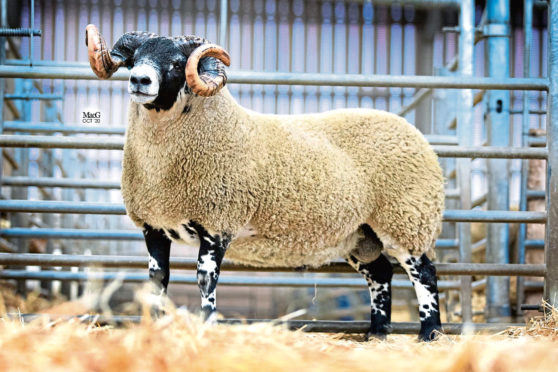 Blackface shearling rams hit a top of £60,000 at Lanark yesterday.
A record shearling average was achieved in ring one with 238 selling to level out at £3,156, up £110.71 on the year, for just 11 fewer sold.
In ring two trade was more selective, with 128 averaging £482.97 – an increase of £53.48 on the year but for 86 fewer sold.
Leading the way was pen number one from the Campbells' Glenrath consignment, from Peebles.
A son of the £160,000 Elmscleugh ram, out of a ewe by a £15,000 Dyke, he was knocked down at £60,000 to Alastair McArthur, Nunnerie, Biggar, and Tommy Renwick, Williamhope, Clovenfords.
Also from Glenrath, a son of a £75,000 Dalchirla sold at £12,000, to the Hamiltons at Crosswoodhill, West Calder.
Forking out some of that money, Glenrath teamed up with Malcolm Coubrough, Hartside, Biggar, to buy the pen leader from Billy and Andrew Renwick, Blackhouse, Yarrow, at £48,000.
This son of a £75,000 Glenrath is out of a daughter of the Hulk.
Tommy Renwick, from Williamhope, Clovenfords, sold to a top of £26,000 for one by a home-bred son of a £40,000 Midlock, out of a ewe by a £25,000 Elmscleugh. He sold to the Ramsays at Milnmark, and Jimmy Wallace, Fingland, both Dalry.
Another from the Williamhope pen reached £9,000, a son of an £1,800 Kirklands, which sold to George Irving, Mount Benger, Yarrow.
The Dunlop family at Elmscleugh, Dunbar, had a strong trade, with two hitting five figures. Top there was a £22,000 bid for one by a home-bred son of a £45,000 Midlock, which sold to the Hamiltons at Aikengall, Dunbar, and Malcolm Coubrough, Hartside.
At £11,000 from Elmscleugh was a son of a £70,000 Glenrath, which went to Tom Paterson, Dunruchan, Crieff.
Matching the £22,000 price was the best from Malcom Coubrough's Hartside consignment, a son of a £20,000 Dyke, which sold to Burncastle Farming, Lauder, and the Marshalls at Gosland, Broughton.
Two rams hit the £20,000 price tag, including one from Sam McClymont, Tinnis, Yarrow. A son of a £6,500 Easter Happrew, he sold to Cadogan Estates, Amulree; Glenmore Farms, Ballindalloch and the Hamiltons at Woolfords, West Calder.
The other at £20,000 was the pen number one from the Wights' Midlock pen, from Crawford, a son of the home-bred Hum Dinger, which sold to Williamhope.
Alan McClymont, Kirkstead, Yarrow, sold to £17,000, with his son of a £6,500 Easter Happrew going at that money to the Murrays, Sewingshields, Hexham.
Not far behind, Mary McCall Smith's Connachan shearlings, from Crieff, sold to £16,000, for one by a home-bred son of a £4,200 Gass. He went to Midlock.
At £15,000, Richard Carruthers, Merkland, Thornhill, sold his best, to the Blackhouse and Burncastle flocks.
Shearlings from Willie Graham, Craigdarroch, Sanquhar, proved popular too, selling to £14,000. Making that money was one by a home-bred son of an Allanfauld ram which sold to the Kay family, Gass, Straiton.
The Grahams also received £10,000 for a son of a £13,000 Craigdarroch, which went to Colin McClymont, Cuil, Newton Stewart, and Alan McClymont, Kirkstead.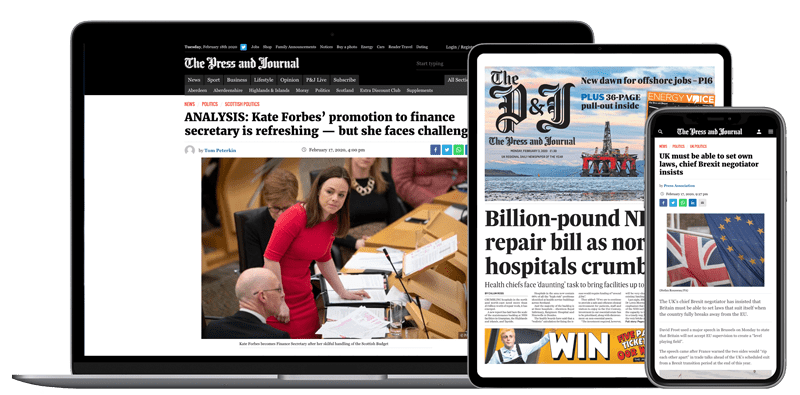 Help support quality local journalism … become a digital subscriber to The Press and Journal
For as little as £5.99 a month you can access all of our content, including Premium articles.
Subscribe