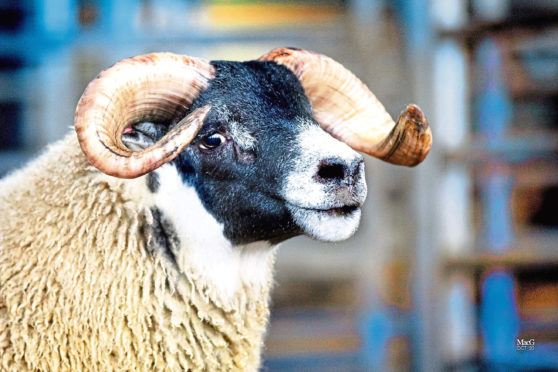 Breed records were smashed at the annual Dalmally Blackface ram sale on Saturday, when a ram lamb from the Dalchirla flock at Muthill, Crieff, soared to £200,000 – surpassing the previous top of £160,000, also set by Dalchirla, five years ago.
The sale – this year held at United Auctions' (UA) Stirling Mart, to allow for social distancing – saw 21 lots make five-figure prices, with a total of 570 rams sold. Overall, 418 shearling rams averaged £1,319, while 152 ram lambs averaged £3,426.
George Purves, UA managing director, said: "I think it was as good a show of tups as we've ever had at the Dalmally sale and the trade reflected that of the whole sheep industry just now – buoyant.
"Both buyers and sellers were delighted to be able to have a sale amidst the current pandemic, and we've had stringent protocols in place from day one to ensure that continues, while protecting our staff and customers."
The atmosphere was certainly far quieter than normal, but there was still much pre-sale talk from a distance about the Dalchirla consignment from Ian Hunter's 1,200-ewe flock at Muthill, which is often star attraction at Dalmally.
They did not disappoint, with the 26 lots from Mr Hunter selling to average an incredible £15,444.
The ram lamb pen leader, sired by a home-bred son of Dalchirla Boris and out of a ewe by a £24,000 Connachan, proved the most popular and was sought after by a number of top breeders.
As a result, the winning syndicate – the Campbells of Glenrath, Peebles; the MacGregors of Allanfauld, Kilsyth and the Wights of Midlock, Crawford – had to go to £200,000 to secure their ram of choice.
They each pay £50,000, with Dalchirla retaining a quarter share to allow them to use him in their own flock.
From the same pen, Mary McCall Smith, Connachan, Crieff; David Murray, Lurgan, Aberfeldy; and Aberuchill Estate, Comrie, teamed up to buy a son of a £45,000 Nunnerie, for £40,000.
At £38,000, the Kay family, Gass, Straiton; David Morrison, Dalwyne, Barr, and John and Patrick Harkin, Loughash, Strabane, secured one by a home-bred son of a £24,000 Connachan.
Other leading lamb prices from Dalchirla included £21,000, £15,000 and £14,000, while shearlings from the flock sold to £22,000, for one the same way bred as the £200,000 lamb.
It joins the Barclays' Harestone flock at Insch, with one at £16,000, by a £24,000 Connachan, selling in a three-way split to the Campbells of Drimsynie, Argyll; Andrew Campbell, Highland Livestock, Fort William; and Ewen Macmillan, Lurg, Fintry.
The top shearling price was £30,000, from the MacGregors, Dyke, Milton of Campsie. By a £38,000 Dyke, which sold last year as a shearling, he sold to John Murray, Crossflatt, Muirkirk, and the Cullens, Dollarbank, Dollar.
The Barclays also bought a third share of a £25,000 Midlock shearling for their Harestone flock, with the remaining two-thirds going to Billy Renwick, Blackhouse, Yarrow, and Burncastle Farming, Lauder.
Other shearlings sold to £22,000 from Lurg, and Stephen Duncan's Livet consignment from Glenlivet, peaked at £10,000, with his shearling son of a £2,800 Dalchirla selling to three Northumberland-based buyers.
A trio of Northern Ireland based buyers teamed up to secure Allanfauld's top lamb, at £18,000, with one from Auldhouseburn also heading across the water at £16,000 along with one from Crossflatt at £14,000.
Another £14,000 seller from Crossflatt went to Aberuchill Estate, Comrie and Sanny Blackwood, Greenside, Muirkirk. Glenrath's leading lamb, meanwhile, sold at £13,000, to the Muirkirk flocks of Auldhouseburn and Dalbair, along with Elmscleugh.
Following a successful Lanark sale, Thomas Muirhead, Orchilmore, Comrie, had further reason to celebrate, when his Dalmally best, a lamb by an £8000 Towiemore, sold at £10,000, to the Taylors at Dall Farm, Killin.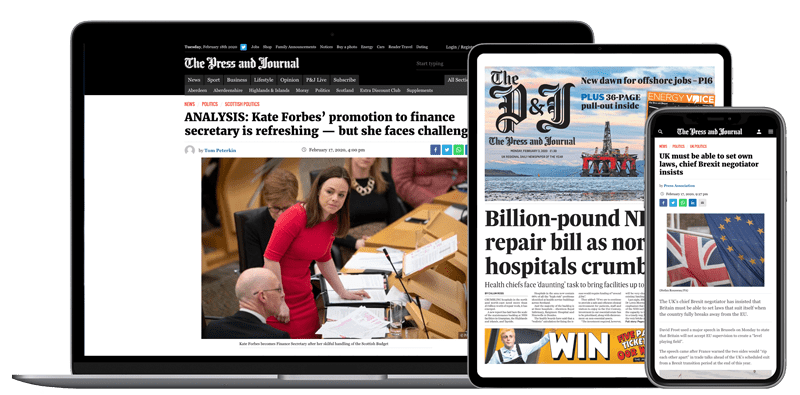 Help support quality local journalism … become a digital subscriber to The Press and Journal
For as little as £5.99 a month you can access all of our content, including Premium articles.
Subscribe