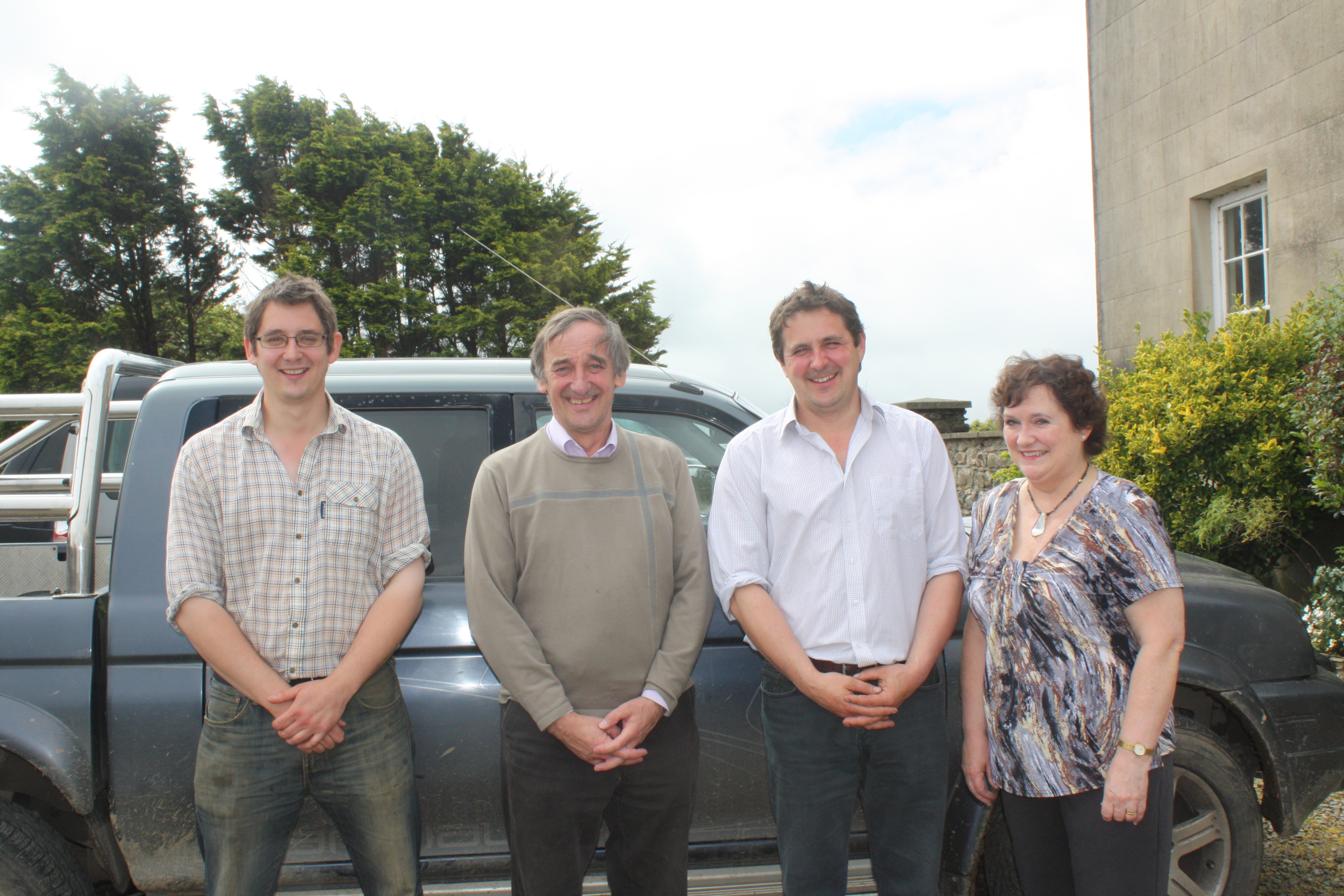 The Raymond name is one of the best known in UK farm politics with Meurig Raymond currently president of NFU England and Wales and his twin brother Mansel heavily involved in European milk politics at the highest level after a four year spell as NFU milk chairman.
Behind the public front however there is a very substantial commercially orientated farming enterprise in Pembrokeshire.
The brothers farm 3,400 acres near Haverfordwest with dairy, arable, potato, beef and sheep enterprises and employ 20 full-time staff.
Around half the land is owned with the balance on various tenancies and share farming agreements.
On the day of a recent Edinburgh Agricultural Society visit to the Raymond's peration Meurig was away, as he often has to be, on NFU business but Mansel explained how the business had developed.
"Our father died in 1967 when we were 14. We had two older brothers who were farming independently by this stage and Meurig and I inherited the 290-acre home farm with 30 dairy cows, 80 beef cattle and followers, 60 sheep and 40 acres of cereals," he said.
"We officially left school in 1968 and went on agricultural day release courses at Haverfordwest for the next four years. By then we had decided to increase our cows and invest in land drainage."
The lure of buying more land was however to prove irresistible and in 1972, the brothers, still in their teens managed to buy another 42 acres. This was followed by further acquisitions in 1975, 1978 , 1982 and 1985.
As farms were purchased investment was made in buildings including two large silage towers on the home farm at Jordanston Hall and a new 300-cow dairy unit on Trenywadd Fawr, the last farm to be purchased.
With considerable understatement Mansel added: "We have never been frightened of debt," adding that the period from 1986 to 1992 was characterised by "survival and consolidation."
"Up until 1984 it was a matter of cows, cows and more cows and then along came quotas, " he said.
EU milk quotas will soon be a thing of the past but Mansel has few fears that the produce from the brother's 590-strong milking herd will not find a market.
"Milk going forward is the place to be. China is inching towards Europe and there will be a huge demand for milk and milk products," he said.
The business currently has a liquid contract with Dairy Crest. The two herds average 7,200 litres and 6,600 litres per cow and make best use of the grass which grows prolifically in Pembrokeshire's mild coastal climate.
There is a threat however and it comes in the form of bovine TB.
Pembrokeshire is a hotspot for the disease but until recently the Raymonds' herds had stayed free of infection.
Unfortunately routine tests a year ago meant their luck had run out and over 50 productive cows have had to be culled scuppering expansion plans.
Buying in replacements has not been a feasible option because the Welsh Government would insist on them being milked separately.
It is a case then of slowly building back numbers by retaining more home-bred heifers and using sexed semen for the dairy inseminations.
The partners in the Raymond Bros business are Meurig and his wife Hilary and Mansel and his wife Rosalind but the day to day running is now in the hands of the next generation – Meurig and Hilary's son Paul and Mansel and Rosalind's son Nigel.
They have been steadily overseeing a range of investments including a 20/40 swing over parlour at one dairy and a 24/48 at the other at a total cost of over £500,000.
These were carried out in 2004 and 2006 but more recently £150,000 has been invested in a new potato grader and handling system.
The Pembrokeshire name is generally associated with new potatoes but the 350 acres grown by the Raymonds are all main crop marketed through the co-op Puffin Produce.
"Luckily there is a big market in Wales for Welsh potatoes and that is what we supply," said Paul.
The rest of the arable acreage is made up of combinable crops including 710 acres of winter wheat, 250 acres of winter barley, 810 acres of spring malting barley and 445 acres of winter oilseed rape.
There is almost 1,000 acres of grass but it is all needed. Apart from the 590 dairy cows there are 385 followers to feed.
Also Mansel takes time off his NFU duties for a few days each autumn to visit markets in mid-Wales and rarely comes home with less than 2,500 lambs for finishing on grass and stubble turnips.
All the bull calves from the dairy herd and beef sired heifers are all finished on the farms too. The target is for cereal-fed Friesian type bulls to be finished at 15-months to produce a 300kg carcase.
In all this is a vibrant business with no quiet periods in the year.
Looking forward Mansel said: " We are considering expanding the cows and perhaps the potato acreage."
This is certainly not a business with a tradition of lacking confidence in the future.