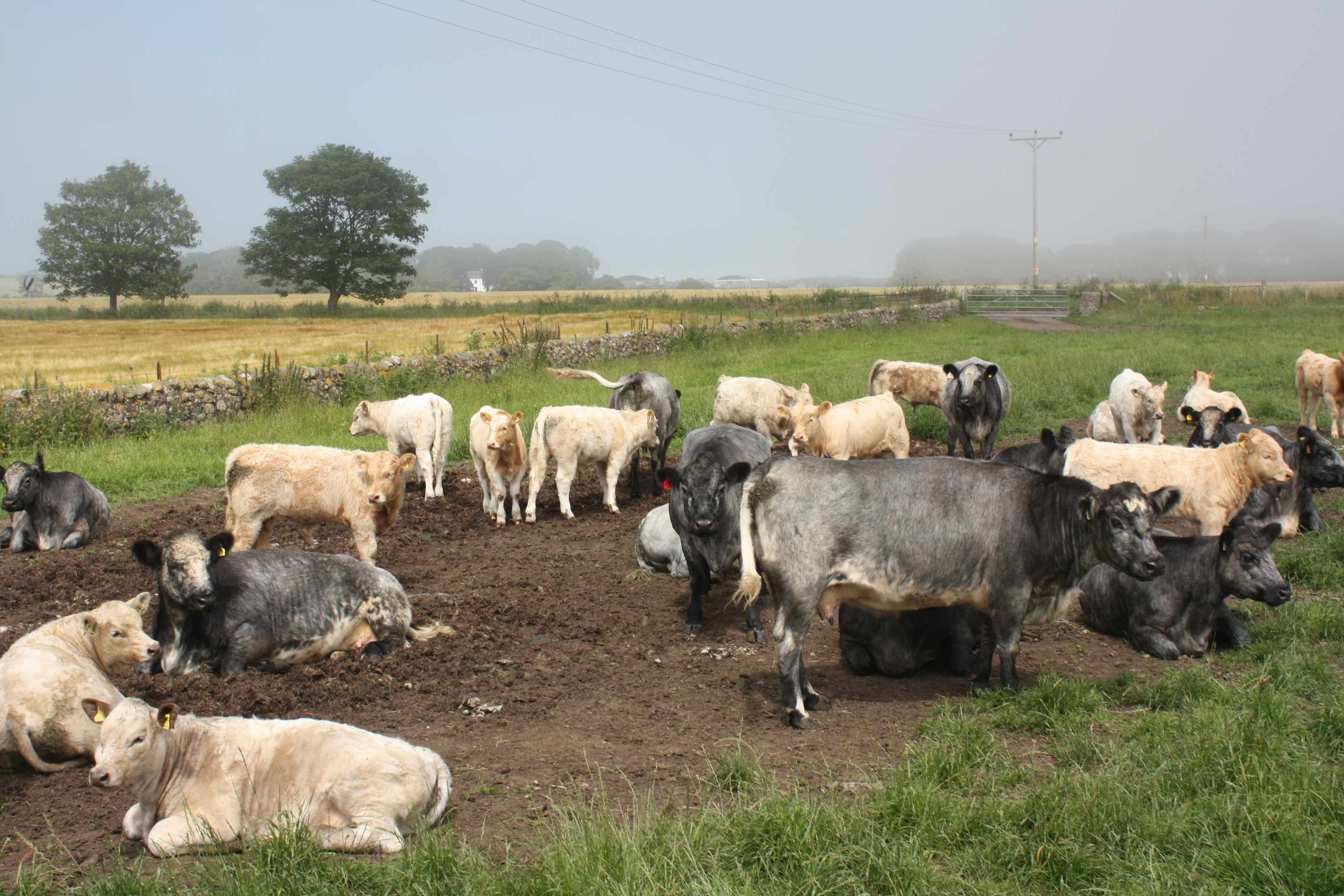 The concept of "Planning for Profit" seems to be a popular one if the attendance at a recent on-farm event at Carnoustie is anything to go by.
Around 85 farmers – some 20 more than expected – turned up to hear about the beef system operated at East and West Scryne by father and son Willie and James Porter.
As event facilitator Iain Riddell of SAC Consulting pointed out there are three real points of interest in the Porter's autumn and spring calving herds.
"Firstly there is the fact that the cows are integrated within a strong arable business. Secondly by choosing to run Blue Greys they are using small long-lasting cows which are easy to maintain and thirdly they are moving some of the cows to hill ground over the summer," he said.
This was the ninth meeting held under the Scottish Rural Development Programme funded "Planning for Profit" initiative.
Mr Riddell reckoned the timing was right with beef farmers more susceptible to change than they may have been in the past. The prospect of lower Basic Payment Scheme (BPS) support payments under the new Cap and the recent sharp fall in beef prices had concentrated minds.
"It is often a case that a number of small changes make for significant improvement as does attention to detail and we can see that here," he added.
The figures backed up the assertion with calves born in autumn 2010 and spring 2011 showing net margins well ahead of Quality Meat Scotland (QMS) averages.
On a per cow basis the spring calves showed a positive net margin of £114 compared to a QMS average of minus £84 for upland herds and minus £95 for hill herds. The autumn born calves at Scryne did slightly better than the spring born ones showing a net margin of £130.
Willie Porter explained that he and James now ran 191 Blue Greys with 86 in the autumn herd and 82 in the spring herd and 23 replacement heifers, most of which were bought at Newcastleton right on the English border.
The heifers are crossed with a Limousin bull but the cows are all crossed with Charolais sires to give lengthy calves which will grow fast.
Housing is kept to a minimum for both herds with arable by-products utilised and blocks of kale grown to provide winter forage.
"We have always kept cattle here and for the last 35 years have bred and finished our own. This farm has a lot of light soil and it needs the muck. It is also suitable for out-wintering which is important for our system," he said.
Emphasising that he liked to keep "civilised" cows he said that contrary to some opinions Blue Greys were not wild.
"It is always good to be amongst them so that they are used to people and also it is important to run groups of cows of mixed ages so that there are older cows to steady up the heifers, " he added.
The point was certainly proven on the visit this week with a group of spring calvers showing complete indifference to two large tractor trailer loads of visitors invading their space.
The spring-calvers are running with their offspring on temporary and permanent grass at East Scryne. Meanwhile the autumn calvers are grazing the high hills of Glen Lyon at Cashley – a 7,500-acre hill unit owned by the Porters.
"They are never allowed below the 2,000 foot contour but they will be back here in time for calving from mid-September. The spring herd calve from February 1 until April 1 and will be weaned on September 22," Willie added.
Viewing the cows out in the field Iain Riddell pointed to their compact size.
He said:  "Most of these spring calvers will weigh about 525kg and will rarely be over 550kg. A Simmental or similar cross cow might weigh 750 kg so we are looking at a cow that costs less to maintain.
"Regarding fertility the results here are excellent with the ratio of calves born to cows served running at 97% with calves reared at 95%. You might think smaller cows would lead to more difficult calvings but only an estimated 7% need assistance and cows here are typically producing nine calves in a lifetime and often more."
All progeny are finished with the bulls kept entire. Both heifers and bulls go to grass for the summer with a barley-based feed being gradually introduced before early housing and a more intensive finishing regime.
Heifers typically finish at 16 months and bulls at 14.5 months with average carcase weights of 262kg and 342 kg respectively. Liveweight gains for heifers are 0.84 kg per day and for bulls 1.26kg. Heifers of late have graded 87% R grades and bulls 36% R grades and 54% U grades.
"The cattle enterprise here fits in well. It is designed to fit in with the arable operation with the arable always taking priority," Willie concluded.