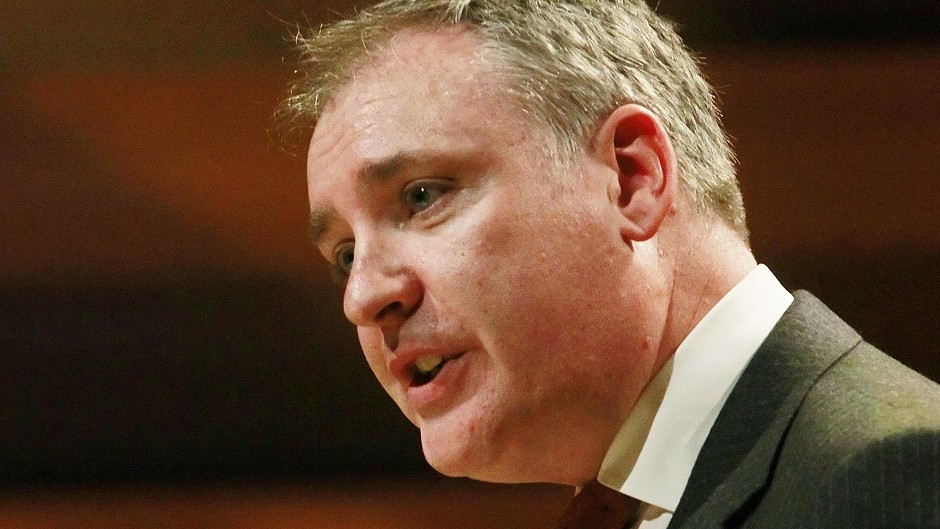 Scotland's magnificent natural environment is essential to food production in this country. The grass on our hills, our pristine waters, clean air and diverse wildlife is vital for the success of Scottish agriculture and our £14billion food and drink industry.
As I travel the world promoting Scottish produce, buyers make clear to me that our reputation for a green and natural environment is an important factor in their choosing to buy Scottish.
So clearly, we must protect and enhance what we have. As well as being a moral obligation, it makes good business sense.
And it is why we are all signed up to a greener Common Agricultural Policy (Cap), and why environmental measures are a European condition of this Cap budget. Indeed, the EU stated that greening was a condition of maintaining the Cap budget close to previous levels.
There's no doubt that EU regulations and how we implement the new Cap greening requirements in Scotland add complexity which is why we must strike a balance between greening the Cap and giving farmers options and flexibility to choose how to run their businesses.
The Scottish Government has consulted extensively with farming and environmental organisations with the aim of doing just that. As a consequence, farmers have received a number of measures that they specifically asked for in the new Cap, including options for meeting their greening requirements.
For example, farmers were keen that nitrogen-fixing crops, like peas and beans, could count as Ecological Focus Areas (EFA), which are mandatory for most arable farmers.
I agreed with farming representatives that I was happy to do this provided some management conditions were applied if the option for counting nitrogen-fixing crops towards EFAs was to be chosen by farmers. I am keen to ensure that biodiversity benefits are compatible with crop production.
To be clear, these management conditions will apply only when a farmer chooses to count nitrogen-fixing crops as EFA, and only within the specific area of the crop declared as EFA. If a farmer decides not to count their nitrogen-fixing crops as EFA, the management conditions will not apply and they can meet their EFA requirement through other features, such as fallow, buffer strips, catch crops or field margins, including hedges and ditches.
Only 26% of businesses in Scotland need to comply with the EFA requirements. Of those, only 11% grow nitrogen-fixing crops and for less than a tenth of those – fewer than 40 businesses – this greening measure may not be an attractive option as it's not compatible with growing at least one commercially viable nitrogen-fixing crop.
The steps I am taking to ensure we help biodiversity are very modest and a small part of the overall greening package.
I recognise that England is not attaching even these modest management conditions. But England has a much bigger budget and chose to green its Cap by investing heavily in its Pillar 2 agri-environment schemes. In contrast, the Scottish Cap budget is much smaller and we have to look for other ways.
Providing more habitat for nesting terrestrial birds and more food for pollinators like bees is good for the environment and for farmers. The UK National Ecosystem Assessment 2011 reported that insect pollination is conservatively estimated to contribute at least £43million every year to the Scottish economy, and halting the decline in wild pollinators will help to sustain yields of arable crops like oilseed rape and field beans, as well as tree fruits and soft fruits. The index of abundance of farmland birds has declined every year since 2008.
The management rules for nitrogen-fixing crops have grabbed attention because we've just announced them and I understand why some farmers would have preferred the management rules to be different.
But this is just one tiny part of the huge new Cap package, which has required many compromises. We have worked hard to ensure that the overall package works for Scottish farmers and reflects industry priorities.
And of course, there other ways for farmers to meet their greening requirements and the new guidance available on our website will give Scottish farmers some more information about the options available to them. However, it will not answer all farmers' questions because we – like other administrations – are still lacking crucial clarity from Europe on a number of aspects of the detailed interpretation of the regulations. For example, we have been told that field margins, in some instances, can split two crops in a field and we are seeking confirmation of the practical implications of this. We are also trying to bottom out the complexities of using temporary grass as fallow.
With greening accounting for about a third of the direct farm budget, it is imperative we get the implementation rules right to avoid the risk of farmers facing an unknown level of disallowance further down the line. That is why the Scottish Government is only publishing guidance that we are confident is correct, rather than our best guess which is what others have done. We will provide more detailed implementation guidance later this year.
I recognise that Scottish farmers want and need certainty which is why I have raised directly with Europe's Agriculture Commissioner the need for urgent clarification as well as a full health check of all aspects of implementing the new Cap part way through this Cap period.