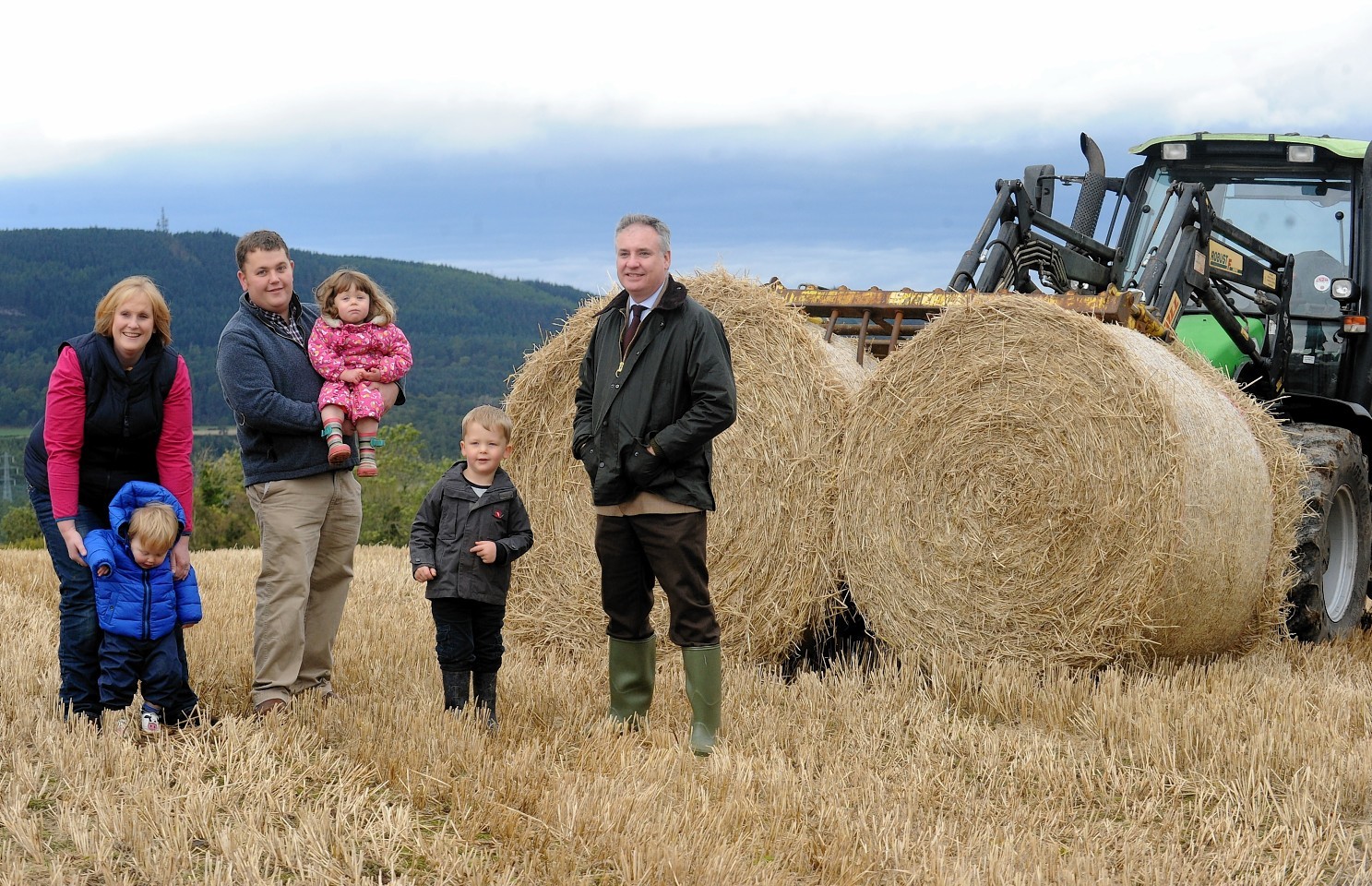 A young farming family hopes to build a successful business at the Scottish Government's first ever starter farm unit, four miles south of Inverness.
Douglas and Grace-Ann Bennie, along with children Alexander (3), Molly (2) and John (1), took possession of the 296-acre Balrobert Farm earlier last month.
The family, which made the move north from Fife where Douglas was managing a poultry unit, are the eighth in Scotland to win a tenancy on a starter farm.
The Forestry Commission already runs seven starter farm units, and a further two are in the pipeline bringing a total of 10 to Scotland including the Balrobert unit.
The holding, which lies four miles south of Inverness, was formed from excess land at the site of the government's bull stud at Knocknagael, and as part of the agreement the Bennie family have been given a house at the bull stud unit.
"It's a great opportunity," said Mr Bennie, 32, who runs a small store cattle finishing business and keeps a small flock of 100 mainly North Country Cheviot and cross ewes.
"I buy the store cattle in about 250kg and take them on to 450-500kg to sell to big finishers of cattle.  We are hoping to put on a suckler cow herd of around about 30 cattle and expanding the cattle rearing up to 160 with 250 ewes."
All equipment and livestock has been provided by the family, who previously ran seasonal lets in Fife, although Mr Bennie said cattle finance from United Auctions alongside overdraft facilities from the bank has been crucial.
"We are quite fortunate in the fact that we are hopefully going to get a Single Farm Payment in November next year from the National Reserve," added Mr Bennie.
"There's quite a lot of Forestry Commission starter farmers that have had three years without a Single Farm Payment."
On future plans, he said he hoped to get estates interested in his business at Balrobert in the hope of being given the opportunity to lease a larger unit from one of them once the 10-year starter farm lease ends.
When asked whether the proposed Absolute Right to Buy (ARTB) for secure tenancies was causing problems for new entrants trying to get a holding, he said:  "I think it's quite a thought for a landlord to rent a farm out to somebody on the basis that they have ARTB.
"It [ARTB] may stop opportunities for people to get into farming with estates taking land in-hand."
He said a better tenancy framework would generate a better farming community.
Farm minister Richard Lochhead visited the Bennies earlier this week, describing the family as a "great example of the fresh farming talent" the government wanted to support.
"We want to use every opportunity to create starter units and new tenancies," he told the Press and Journal.
"I wish the Bennies every success in their endeavours here and look forward to seeing them make the most of what is on offer at the Balrobert starter farm."