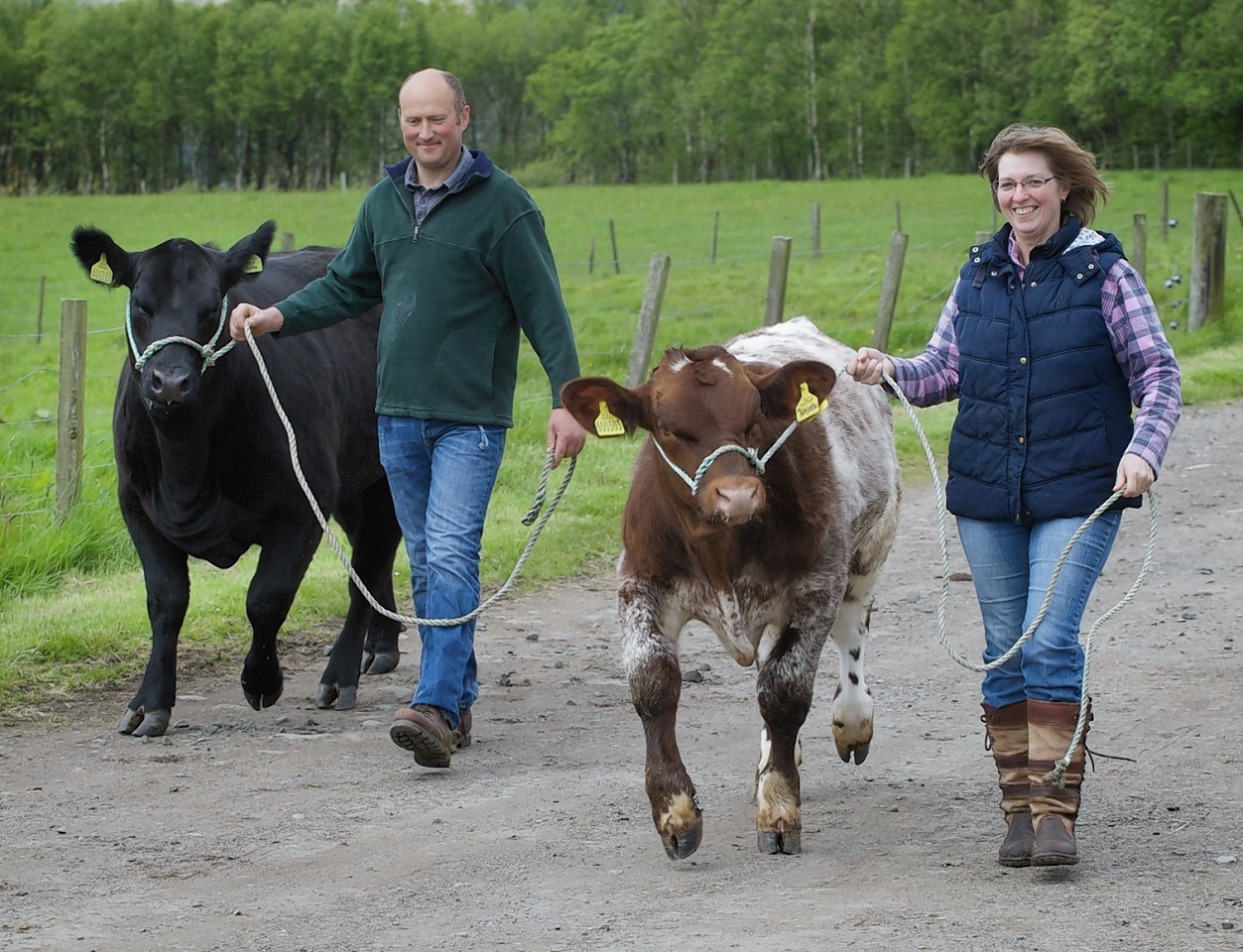 The Royal Highland Show provides farmers with the unique opportunity to showcase their livestock in what has to be one of the country's greatest shop windows.
Business vies with pleasure as cattle, sheep and horse owners and producers battle it out with some of the most exceptional animals in Great Britain and Ireland.
To many of those that take part, the Highland is "the" show to win – the flagship of Scotland's show calendar – and that is certainly the case for freelance stockmen Richard and Carol Rettie, of Aberdona Mains, near Dollar, Clackmannanshire. Philippa Merry finds out more
—
"It actually all started as a favour," reflected Richard on his transition from work as a full-time stockman south of the Border, towards farming and then freelance livestock production.
"We had moved up to Scotland to contract farm and one of our friends asked us whether we might be able to help him ready two bulls and take them to a sale for him."
Carol added: "I suggested to Richard that we might be able to make a business out of being freelance stockmen.
"He definitely laughed at me at the time – and yet here we are."
Now the couple, who have a remorseless eye for perfection and top animal husbandry and presentation, boast an enviable record of championship wins across multiple breeds and struggle to find sufficient wall space for all the photographs of the top animals they have worked with.
"We've been incredibly lucky to play a role in producing some of the animals we've had," said Richard.
"They've given us the opportunity to enjoy plenty of great shows and spend time with a lot of great people."
For everyone that shows livestock there will always be those particularly special events and animals.
Cemented in the memory of Richard and Carol, not only for his prolific success, but also his supreme and affable personality, was the Shorthorn bull Cairnsmore Thrasher.
"Even though producing animals is our business, we spend so much time working with them that we cannot help but get attached to many of the characters," said Carol.
Richard added: "We take the same pride in showing every single animal and producing them to look their absolute best. The livery cattle always come first, our own just have to fit around our busy schedule.
"We have a great team of staff who help us at shows and sales, without whose help we couldn't have achieved the success we have."
Undoubtedly, Richard admitted, it's the competitive edge to his personality that has drawn him towards a love of showing – as well as the camaraderie – but an equal part of their livestock production still involves getting animals prepped and presented for the bull sale season.
"It all means there aren't that many free weekends during our year," conceded Carol, who keeps a colour coded wallchart in the kitchen at Aberdona to plot their movement right through the agricultural calendar.
Since moving to Aberdona Mains, a decade ago now, renting 300 acres from Harviestoun Estate and outlying farms, used entirely for grass and silage, the Retties have seen their business as freelance stockmen grow, touching many, if not all, of the mainstream beef cattle breeds.
In turn, the husband and wife duo have enjoyed a catalogue of top wins at many of leading shows in the country – but the Royal Highland Show remains at their pinnacle.
"I must have started showing at the Highland when I was in my twenties," said Richard. "I can't remember missing many years since then."
"Over the last decade specifically, we've been lucky to enjoy six championships at Ingliston and they were all incredibly special for everyone that was involved alongside us."
During this timeframe, the Retties have collected two championships from the Hereford ring – but most notable of their count was the three successive championship wins they bagged in the Shorthorn ring for Wolverhampton-based breeder Mark Holmes. They also bagged one for Geoff Riby at the World Shorthorn Congress in 2010.
In 2006, the Retties paved the way for Mr Holmes to become the first Englishman since 1932 to win the Royal Highland championship with an English-bred animal – Holmeere Georgina Rose – whilst in 2007, the team won again with Holmeere Alastair. By 2008 their season was dominated by champion stockbull Cairnsmore Thrasher.
Thrasher – a son of Cairnsmore Nike Sportsman – had been bred in Newton Stewart by Bill and Jane Landers, but his outstanding show career with the Retties also saw him top supreme championship at Drymen, the interbreed at the Great Yorkshire and reserve interbreed at the Royal. He was also a winner locally in the interbreed at Fife and stood champion at Ayr and Dunfermline shows to name but a few.
Although now deceased, Thrasher's show ring legacy continues to live on and the Retties have since enjoyed widespread success with the late Gordon Brooke's Shorthorn heifer Holmeere Millicent 12th and their own Aberdona Duchess Fancy Pants, which are just two of his offspring.
Indeed, the Retties came within touching distance of another Royal Highland win with Millicent, which they showed to stand reserve breed champion at Ingliston in 2011, collecting championships at Drymen, Fife and Perth and the junior interbreed title at the East of England along the way.
Duchess Fancy Pants, in turn, topped the breed line-up at Central and West Fife and Doune and Dunblane in 2013.
This year, the Retties head to the Highland with a 'relatively small' team of nine animals – spanning the Aberdeen-Angus, Shorthorn and Charolais rings.
"We've travelled to Ingliston in previous years with a team of 30 animals, so this year's selection is pretty reserved considering. In fact, I think it's the smallest consignment we've ever taken," said Richard.
Carol added: "The Highland is totally unique. It is 'the' show in Scotland, the one everyone aims for – nothing else really competes with it. It just feels special."
According to the Retties, once each New Year rolls in all roads lead to the Highland.
Richard said: "We start preparing animals months before the event, so it's only once our show days are over that we get the opportunity to catch up with everyone properly, kick back, relax and enjoy the atmosphere and all the company."
But one Royal Highland win remains elusive to the team.
"I've been an 'Aberdeen-Angus man' for many years and that breed championship is top of my 'bucket list'," said Richard.
"We've won the reserve breed title at Ingliston and two female championships, but the Aberdeen-Angus overall is my holy grail."
This year the Retties will have five cracks at the whip in the Angus ring on behalf of butcher John Gilmour & Co and Donald Rankin. They will also contest the Shorthorn and Charolais classes, showing both their own animals and those belonging to Beef Shorthorn society president Geoff Riby.
Keeping the memory of their previous success alive the Rettie's consignment includes Wavendon Rothes Mynah, who brings a bull calf at foot to follow in his father Cairnsmore Thrasher's hoofprints to be shown at the Highland.