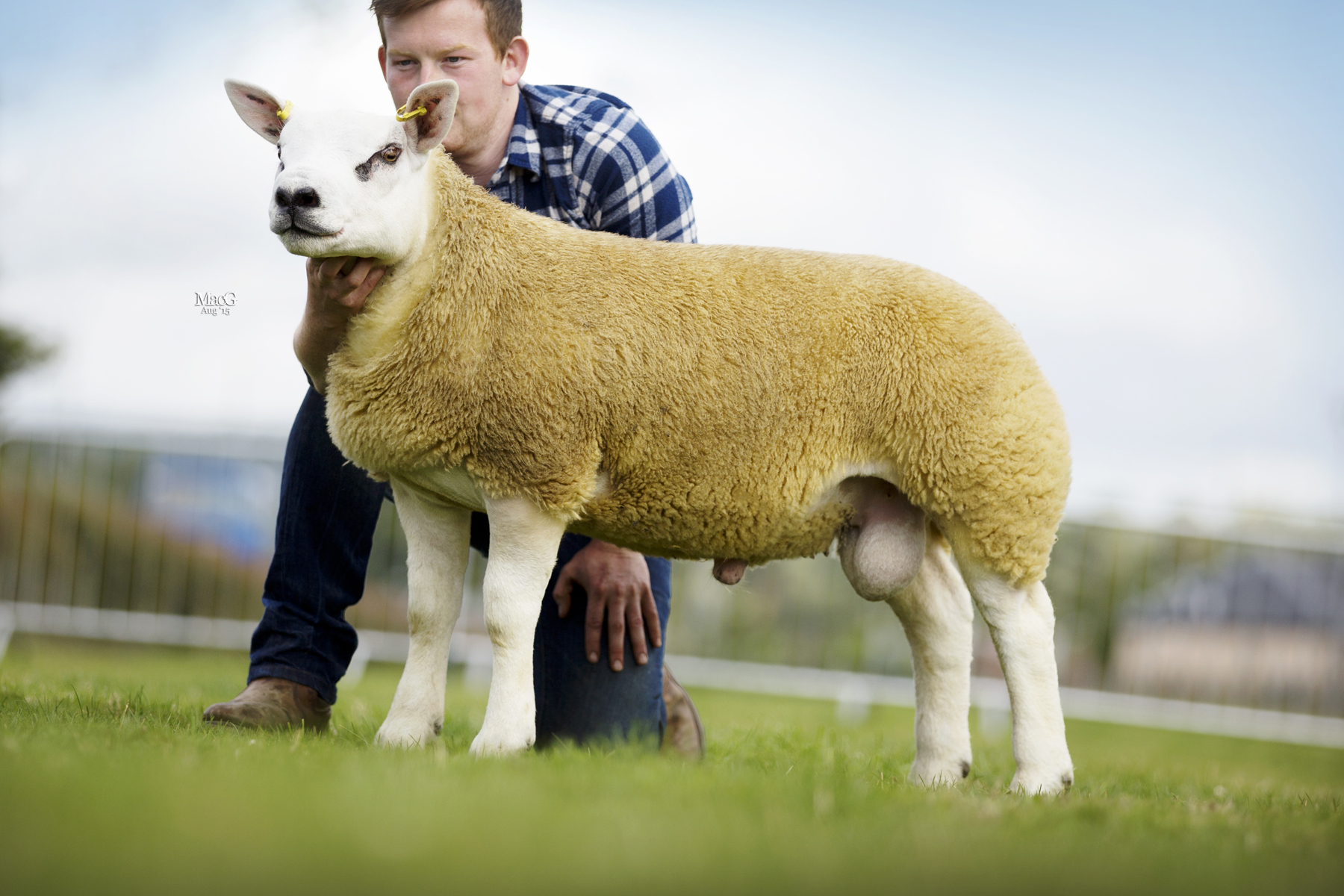 Peterhead-based breeders Albert and George Howie, led the trade of Texel ram lambs at Lanark selling their best at 70,000gn.
Overall, a 78% clearance saw 385 lambs sell to average £2,314 – back by £167 on the year for six fewer sold – but without the six-figure top price of the 2014 sale, when Knap Vicious Sid made 145,000gn.
Lawrie and Symington auctioneer Brian Ross said it was encouraging to see so many new faces around the ring.
"The ring was packed from 9am until 5.30pm, ensuring a great trade right through the day, with as good a bottom end as there's been here. Outwith the pedigree sales, there was also a sound commercial trade between £400 and £800," he added.
Setting the trade alight early on in the sale was the substitute lamb, Knock Will I Am, from the Howies' flock, based at West Knock, Stuartfield, Peterhead.
Soaring to 70,000gn, this son of the 13,000gn Garngour Vintage, out of a home-bred ewe by Tophill Nockout, sold to join Charlie Boden's Sportsmans flock at Stockport, Cheshire.
Next best was a 32,000gn bid for Tophill Wall St, a son of the 4000gn Procters Ventura, from David Houghton, Isherwood, Bury, Lancashire.
Out of a home-bred ewe by Milnbank Times Square, he was knocked down to three north-east breeders – Brian Buchan, Clinterty, New Aberdour; Albert and George Howie, West Knock; and the Knox family, Mid Haddo, Fyvie, with Mr Houghton retaining a quarter share.
Haddo recouped that spend and more, selling their own pen topper at 24,000gn. That was Haddo Wait A Minty, a son of the 5,000gn Cowal Vogue, out of a ewe by Strathbogie Smokey Blue. He sold to new breeder JG Teward for the New View flock at Staindrop, Darlington.
Donald and Sarah MacPherson, Castlehills, Berwick-Upon-Tweed, received their top price to-date, when they sold their only entry, Hexel Wildcard, at 32,000gn. Selling at Lanark for the first time in seven years, their topper, by Drumpark Unique, sold four ways, to Andrew Neilson, Brackenridge, Strathaven; Peter Woof, Stainton, Kendal; Spiros Spyrou, Gib Farm, West Yorkshire; and Richard Wilson, for his Eden Valley flock in Cumbria.
John Forsyth's Glenside consignment, from Maybole, Ayrshire, proved popular, with no fewer than three lambs breaking the five-figure barrier – all sons of last year's 85,000gn purchase, Cornmore Velvet Jacket.
Top there was 24,000gn, paid for Glenside Willie Winkie, out of a ewe by the 11,000gn Mollorvale The One, which sold to Hugh and Alan Blackwood, Auldhouseburn, Muirkirk; Neil and Stuart Barclay, Harestone, Crathes; and Keith, Allan and Roy Campbell, Cowal.
Reaching 16,000gn was Glenside Willy Nilly, another by Velvet Jacket, out of a ewe by Strathbogie Terminator. He was knocked down to Robbie Wilson's Milnbank flock at North Dorlaithers, Turriff.
Not far behind, Glenside Whiskey Galore reached 15,000gn, selling to Procters Farm, Slaidburn, Clitheroe, Lancashire. His dam is a daughter of Strathbogie Python.
The pen number one from Graham Morrison's Deveronvale flock, at Cornhill, Banff, Deveronvale Warrior, sold at 19,000gn to Willie Ingram, Logie Durno, Inverurie, who takes a half share, with the Wights at Midlock, Crawford, and the Gilmours at Humeston, Maybole, taking a quarter share each. A March-born lamb, he is by Mullan Vivaldi.
Earlier in the day, Brian Williamson's sole entry, Farmhill Wizz Kid, from Omagh, Co Tyrone, hit the 16,000gn price tag, selling in a three-way split to Gordon and David Gray's Ettrick flock at Selkirk; Robert Cockburn's Knap flock at Crieff and Archie Hamilton's Lanark-based Smyllum flock. He is by the 3,000gn Springwell Viera, out of a ewe by Knock Travis.
Two lambs reached the 14,000gn mark, the first being Duncryne Wladimir, from Kerr Jarvie, Cherryfield, Muthill, Crieff. This son of the 11,000gn Stainton Vigilante, out of a ewe by Ettrick Strongbow, sold to the Campbells' Cowal flock at Lochgoilhead.
For the same money, Northern Ireland's Cyril and Martin Millar sold the best from their Coleraine-based flock to Jim Innes, Strathbogie, Dunscroft, Huntly. A son of the 7,500gn Knap Vital Spark, he is out of one of the flock's show ewes, a daughter of Stainton Real McCoy.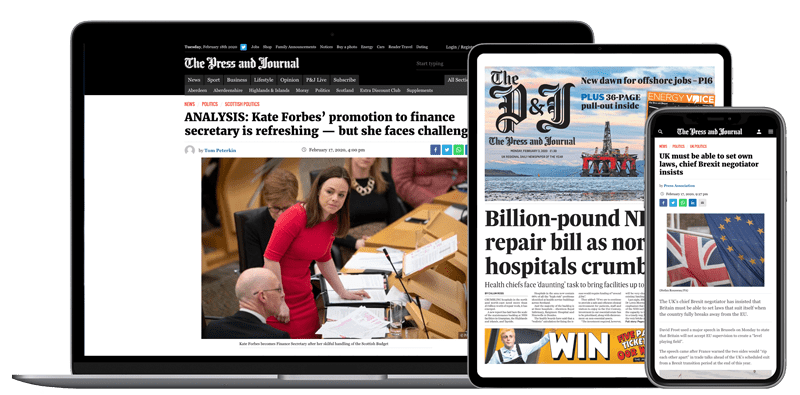 Help support quality local journalism … become a digital subscriber to The Press and Journal
For as little as £5.99 a month you can access all of our content, including Premium articles.
Subscribe